Cinderella - The Fairy Godmother of all Pantomimes
Alan McHugh with additional material by Paul Chuckle and Phil Butler
Qdos Entertainment
New Victoria Theatre, Woking
–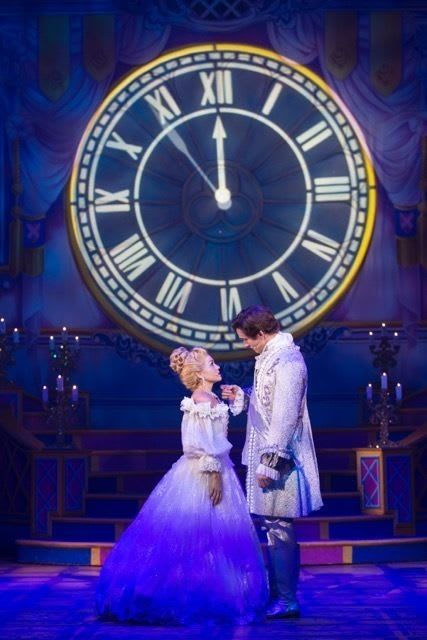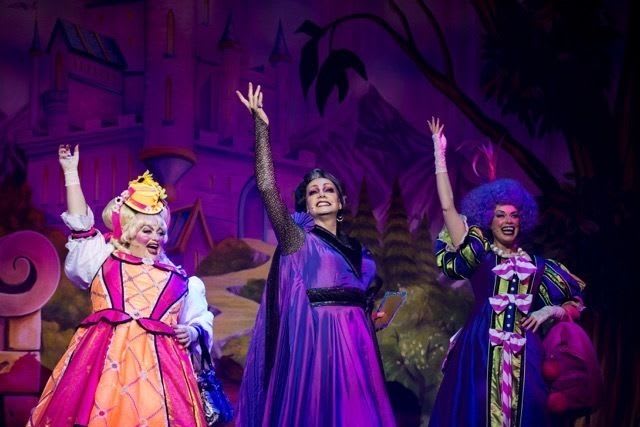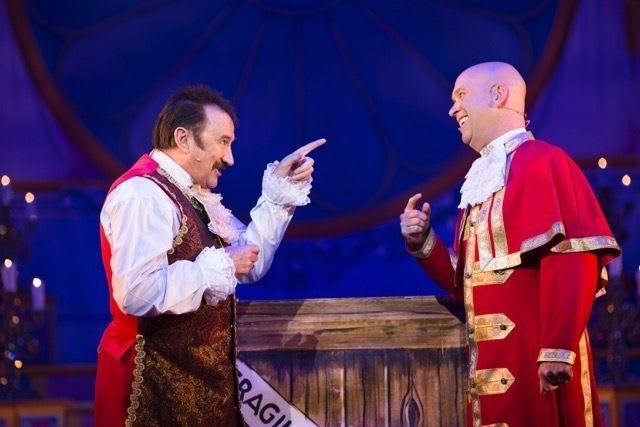 All singing, all dancing, dazzling costumes, silly jokes and some audience participation is our expectation for a traditional pantomime, and this is what we get but with a lot of surprises along the way. In a little switch from tradition, the principal boy is not a thigh-slapping, high-booted girl but most definitely male, and this is the first time I have seen the ugly sisters actually played by women. In fact the only gender swapping is Craig Revel Horwood as the Wicked Stepmother. I didn't hear any swear words at all, and if there are any dirty jokes it's all in the mind and nothing to have to explain to the children.
Under the direction of Michael Gyngell, the whole show swings swiftly and happily along with everything clicking into place like a well-oiled machine and the fact that there appears to be a cast of thousands is totally due to the amazingly talented eight-strong ensemble who work their socks off changing from villagers to pumpkins, to the 'Household Cavalry', guests at the ball and whatever else is required of them—all terrific dancers too.
Paul Chuckle, well known for the award-winning children's television show Chucklevision, gets the audience going with his famous catchphrase "Helloooo" but they didn't need much encouragement, enthusiastically roaring it back to him at every opportunity, and there is a lot of very funny interaction between him and the multi-talented Phil Butler who provides a little magic of his own without the use of Lila McConigley's wand.
Quite a few scenes stand out in my memory and still have me laughing. Buttons, believing he is being coached for a singing audition, takes direction which is really being applied to how to wear a dress. You can imagine the result—and the song "If I were not in Hardwick Hall Something Else I'd Like to Be" is totally hilarious, becoming ever more frantic and furious as they perform the actions for their characters—and then again at higher speed. Not sure if Revel Horwood really enjoyed this one but he had his turn to show his dancing skill in a rather vigorous solo. I had no idea he had such lovely legs!
Sophie Isaacs Is perfect as Cinderella. Tiny and vulnerable, you can understand why she is so afraid of her sisters and stepmother as they tower threateningly over her with CRH (who 'glams up' beautifully) taking a vicious pleasure in making her tear up her invitation to the ball. The instant attraction between her and Oliver Savile's Prince Charming is very believable, but children can get bored with too much sentimentality and in the Enchanted Forest, as the two sit on a wall gazing lovingly into each others eyes, up pops Phil Butler's Buttons and and we're in the middle of a Morecambe and Wise style comedy.
Magic is definitely in the air with a very neat switch of Cinderella's rags to her beautiful ball gown and the coach and horses are summoned out of nowhere, while just before the interval… well I don't want to spoil the surprise, but you have to see it! Truly amazing!
Reviewer: Sheila Connor