Cinderella The Rock & Roll Panto
Peter Rowe
New Wolsey Theatre
New Wolsey Theatre, Ipswich
–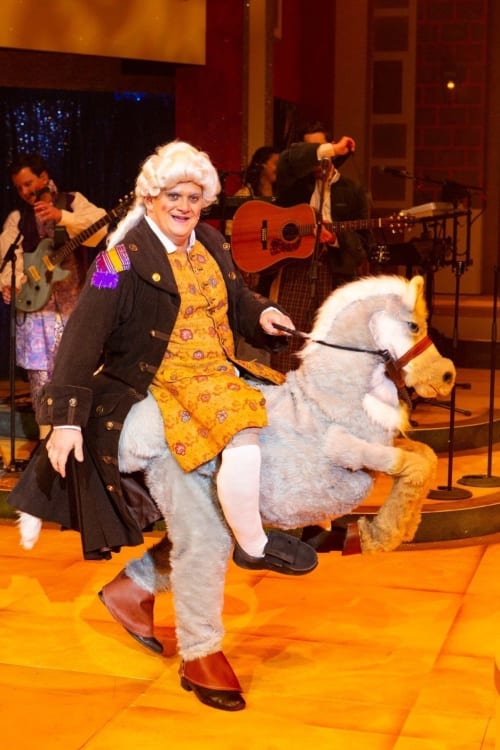 It's panto time—oh yes it is! And amongst all the usual fare, The New Wolsey offering usually stands head and shoulders above the rest for pace, originality and music. And refreshingly, no big stars.
This year is no exception—even with Peter Rowe dipping into his back catalogue for inspiration. Cinderella was the first panto he produced at The New Wolsey but it feels fresh. It's also the first panto I've ever seen without a Dame, but it loses nothing from the comedy due to the superb performance of Steve Simmonds as Baron Hardup who basically carries the humour of the show in the place of a Dame, with excellent comic timing, a battery of cheesy jokes, lots of gurning and a solid stage presence.
This leaves room for a female in the role of Mother of the Ugly Sisters, Rubella De Zees, played with lots of evil looks and presence by Susannah van den Berg. The Ugly Sisters are camped up by Sean Kingsley and Adam Langstaff and James Haggie makes the most of his role as a rather wistful Buttons.
Local boy Chris Vince makes his panto debut as the Prince, Mark Newham is a good foil to him as rocker Dandini and Daniella Piper is a somewhat understated Cinders but with a beautiful voice. Seasoned panto veteran Lucy Wells completes the set as the Fairy Godmother and all the cast also take turns playing myriad instruments and singing backing vocals when not performing their own musical numbers in a whirligig of favourites including "Three Steps to Heaven", "It's Raining Men" and "Walkin' in the Rain".
The set is a well-designed mixture of glitz and glamour that allows the band plenty of stage room alongside the actors. There are lots of local references and plenty of action, although not as much slapstick as in previous shows. There are some sweet puppet mice but don't expect lots of clever wizardry. There's no attempt at turning pumpkins into coaches and Cinderella's transformation is clever rather than spectacular—it's not really that sort of show.
Even without a Dame, there's still plenty of innuendo, but most of it will go over the heads of any children in the audience, and the whole cast work really hard while making it look easy while they all have a real ball on stage.
Well-directed by Peter Rowe—his pantos get slicker every year both in the writing and the execution—and held together musically by New Wolsey regular Ben Goddard, this is an entertaining and feel-good evening—if a little long at two and a half hours.
Still, if you want a show that you can take the whole family to, full of good laughs and festive spirit with a lots of catchy music thrown in, this is the one for you.
Reviewer: Suzanne Hawkes