Cinderella
Johnny McKnight, songs by Alan Penman
The Royal Lyceum Theatre, Edinburgh
–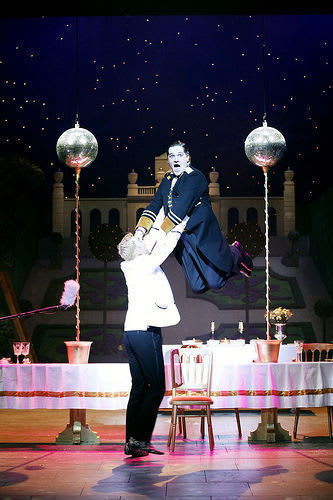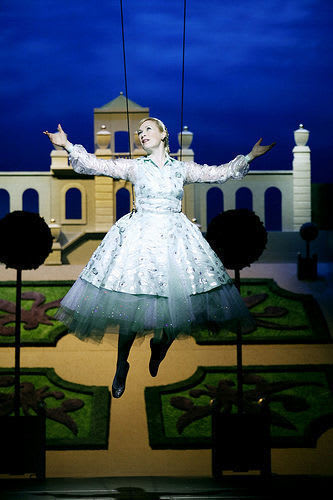 Johnny McKnight's Cinderella is a little closer to pantomime than the Lyceum festive shows of recent years, but behind the songs and jokes the show has a little more heart and gravity than your usual Christmas panto.
The setting is modern day France and the main change to the story is to replace the Fairy Godmother with the ghost of Cinderella's late mother. It's still a magical role with Gail Watson, who plays the mother, descending in on wires to assist Cinderella (Julie Heatherill), a sweet poignant relationship.
Cinderella's Papa is equally likable but more bumbling, played by Grant O'Rourke who also gets to have fun as Bumble the Prince's personal assistant. The doubling up makes the most of O'Rourke who is on excellent form particularly in his duet with the Prince in Act Two.
As an antidote to all these nice characters, McKnight's Cinderella has its fair share of especially disagreeable nasty characters. Monique (Jayne McKenna) is up there with Cruella DeVille in the evil and hammy stakes, she and her daughters upon arrival immediately destroy Cinders's and her father's cosy quiet life. Her daughters Colette (Nicola Roy) and Camille (Jo Freer) are not the sharpest tools in the box, these vain airheads with loud Scots voices and even louder clothes will stop at nothing to bag the Prince.
In a twist to the tale, the Prince is neither charming or a real prince, he's a reality TV star who turns out to be as vacuous as the Monique's daughters. His current reality challenge is to find himself a wife, though this is proving difficult as his main interest is himself. Its quite a witty take on the story and the comedy is aided by the camera and boom duo who follow the Prince everywhere.
The songs can be a little simple and don't add a great deal to the production, but the characters are well drawn and the story moves along well with the good mix of humour, villainy and romance. Since the Prince is clearly an idiot you may be wondering how the romance works, however this is provided by Monique's servant Boy (Spencer Charles Noll).
Noll has virtually no lines as Monique has rendered Boy dumb, so much of this love story plays out without words, a very clever and endearing idea.
There is some great comedy provided by the cast, the most laugh-out-loud piece in my view is the dinner scene near the end, with Camille getting totes plastered on the bubbly. It's not all fun and games—the show builds up to a surprisingly dark finale.
An alternative to the usual rags to riches story, which has a lot more soul, but will still have you hissing the baddies and cheering on the good guys.
Reviewer: Seth Ewin