Cinderella
Nick Mowat
Camberley Theatre
(2011)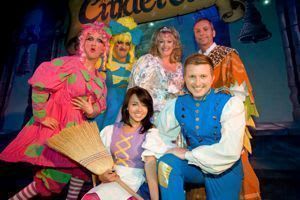 Throughout history, pantomimes have always embraced celebrity and this year's production at the Camberley Theatre is no exception. With Louisa Lytton in the title role, this Cinderella has a strong Strictly Come Dancing focus, with the narrative slightly adjusted to incorporate a talent contest at the Prince's Ball.
After a long and unatmospheric prologue, the show opens to the Latin sounds and rhythms of Barry Manilow's 'Copacabana'; however the constant repetition of 'Cinderella' in place of 'Copacabana' becomes rather tiresome and tedious as the number progresses. As unimaginative as the re-written lyrics may be, the number does at least provide the superb ensemble the opportunity to show off their superior dancing skills.
The Camberley Theatre always boasts one of the best dance troupes in Pantoland. This year's juvenile ensemble execute their moves with great vigour and smile constantly throughout, obviously enjoying their time upon the stage. Complemented by the seniors comprising of four female non-professional and four male professional dancers, the stage buzzes with life; every extension is perfectly finished and every move slick and sharp.
Having such strong dancers and a Strictly Come Dancing celebrity headlining means that naturally the production has made the decision to proudly show them off as much as possible, and herein lies Cinderella's problem: there are far too many musical numbers. They occupy every scene and many, such as the Fairy Godmother's 'Diva's Lament' in Act Two, appear completely superfluous and merely included to fill the time. This is also evident in a subsequent scene when Buttons sets up the expectation of slosh by asking the audience whether he should have some 'fun' with the Ugly Sisters. But instead of comic capers, Michael Jackson's 'Thriller' complete with spooky zombies is performed without a pie being thrown or an 'It's behind you' shouted—and all of this within the walls of Hardup Hall's scullery.
The proliferation of musical numbers also creates a rather long and sprawling Royal Ball in which, due to the realigned narrative, act after act takes to the stage in order to impress the Prince. When Cinderella is suddenly announced as a surprise Talent Show entry, Lytton gets the opportunity to show off her Strictly moves, but it is somewhat odd that as Princess Crystal she appears in a ruby red dress. And why does the Fairy Godmother appear as Lady Gaga when the most outlandish costumes and musical numbers should be reserved for the Ugly Sisters?
Returning to Camberley for the fourth and third time respectively are Mark Slowey and Scott Burgess as the Ugly Sisters. Slowey is a wonderful Dame and one of a handful of talented pantomime performers who equally excel when playing Sister. Only a fine line of difference separates the two cross-dressed roles and Slowey treads it perfectly. As his partner in crime, Burgess' Dannii-Kelly is the antithesis to Slowey's Cheryl-Tulisa and hilariously resembles Uncle Fester in drag complete with husky voice
For the past two years, the Camberley Theatre has used its budget wisely on an impressive set piece of spectacle, but this year their animated clock is a huge disappointment. A giant LCD screen positioned at the top of the proscenium, this electronic time teller does little more than that of an actual clock, apart from a few seconds when the Uglies make an appearance interrupting the action in a recorded message
For all the pizzazz of the dancers, the production suffers from a bad case of staleness. Lytton was in Strictly Come Dancing five years ago in 2006 and musical numbers such as 'Single Ladies (Put A Ring On It)', 'I Gotta Feeling' and 'Bad Romance' make it feel rather panto season 2009. Achieving the right balance of new and old is no easy task, but a few current pop hits and more 2011-specific topical allusions would help lift the production and make it feel fresh and exciting.
With stunning choreography from Stuart Sweeting, an electric ensemble and plenty of comic capers from Camberley favourites Slowey and Burgess, this Cinderella still sparkles, but just not as brightly as were it to have been staged a few pantomime seasons ago.
'Cinderella' plays at the Camberley Theatre until 2nd January 2012.
Reviewer: Simon Sladen