Cinderella
Paul Elliott and Allan Stewart
Kings Theatre, Edinburgh
(2011)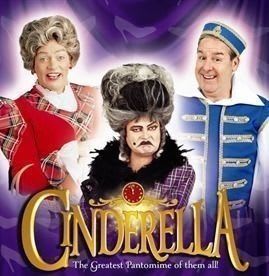 Pantomime, with its family audience, has to feed a lot of different appetites, but by far the most voracious and vocal are those of the younger members of the audience. Growing boys and girls need plenty of food and the Kings provided a real banquet. Many different delicious settings with characters in crazy confections cavorting around the stage and a ripe selection of cheesy songs.
The plot is somewhat different from usual with a Baroness instead of a Baron (more dressy cross-dressing) and the ugly sisters (Grant Stott and Ross Marshall) being outsiders who come in and take over Cinderella (Joanne Thomson) and her family the McSquirrels' home due to her deceased Dad's gambling. A more mature Buttons (Andy Gray) is less interested in delicate Cinders than her somewhat more robust Mam, Baroness May McSquirrel (Allan Stewart).
It's hardly a massive shake-up to the pantomime, the Kings keeps to its traditional tried and tested formula. Stewart, Gray and Stott are potatoes, rice and bread of every Kings Christmas meal, Stewart in the newly invented Baroness Hard-up-role gets some of the best lines and possibly even better audience mick-taking than Stott as the villain, but then Stewart is co-writer of the piece.
Stott as Gobina McPhlegm, however, does get the biggest dresses and hair, raising his stature to a scary height, seven foot or probably more, while his little sis Marshall as Hocktoo McPhlegm pops out from under his monstrous frocks to create a truly chalk and cheese double act, including some local footballing rivalries in one costume change.
Stewart and Gray form a silly yet touching double act as Baroness and Buttons, cue much squabbling, endlessly repeated gags and the meat of the piece: a lot of ham. With Stewart's widow growing old ungracefully and Gray's confused old retainer, one raising their skirts the other their eyebrow to the audience, you have a match of strawberries-and-cream type strength.
Though the big three stalwarts get most of the comedy, they are ably supported by Paul Luebke's buff Prince, Joanne Thomson's sweet Cinders and Katy Heavens's saucy little fairy. There is also a strong ensemble for the many dance numbers, not just good moves but clearly having plenty of fun joining in, especially ever-grinning dancer Eian Crockatt. Also the young talent of Edinburgh Dance Academy who made several appearances but were perfect as little woodland creatures for the forest scene.
Behind the great scenery, even more elaborate costumes and the big cheesy song-and-dance numbers, the real flavour of the dish lay in that pantomime delicacy audience participation and the performers never failed to keep the audience onside and involved, from popping into the boxes to getting a little girl from the stalls to save the day. A real crowd pleaser that you would have to be a very bitter ugly sister not to be smiling at by the end.
Ends Sunday 22 January
Reviewer: Seth Ewin