Cinderella
Matthew Dye
The Sands Leisure Centre, Carlisle
(2011)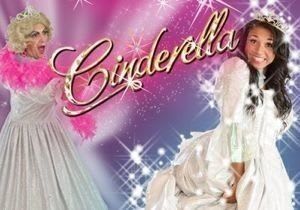 Writer and director Matthew Dye with co-director Jonathan Higgins have produced a spectacular production at Carlisle's Sands Centre. This production is slick and the auditorium was nigh on full for tonight's performance.
Cinderella, played by the delightful Steph Fearon is sweetly feisty, it's not surprising that Buttons, played by Carlisle entertainer Stevie D, falls head over heels with her—she could have been put off by the fact that she makes him so nervous that she gives him permanent wind. But, being a lady she rarely mentions it. Steph plays Cinderella with enthusiasm and great resourcefulness.
The Fairy Godmother, played by staunch Sands pantomime regular Robbie Dee, soon has the audience on his side as he is in grave danger of losing his magic status—if he fails on this mission he will be made redundant. Nice touch to have his boss Lulu Bell played by a diminutive child: tonight it was Aimee Ashurst, on other nights it can be Gabriella Haugh. Lulu Bell is a fiercesome boss and has the Fairy Godmother hard at it to keep her license to spell.
The Prince, played as a Bertie Woosterish silly ass by the tall Billy Walker, is fun—and the duets with Cinderella are a delight as both have excellent singing voices. The Prince's courtiers, Cameron and Clegg played by the comedy duo (Victoria) Roberts 'n' (Joanne) Ashcroft provide some excellent slapstick and vocal sequences.
Yvonne Patterson as Frau Ning, the wicked stepmother, has a personality and voice that really reaches the back of the hall. The Ugly Sisters Essex and Chelsea are the spectacularly costumed Chris Black and Stevie Charles—did the Dreamgirls supply some of your costumes boys?
The choreography from Sean Selby is wonderful: large set pieces and individually, he uses the space to great effect.
The sets are excellent and the scene changes smooth and efficient. I particularly liked the stage hand—and his arm—running from one side of the stage to bring on and take off the front cloth. Nice touch there. Lighting is bright, great design by Andrew Lindsay.
I did have a problem with the sound, it does not have much subtlety, but that's a minor niggle.
Overall the show is good, well worth the trip from the south of the county and well worth anyone making the trip before it closes on 31st December.
Runs until 31 December 2011.
Reviewer: Denis W McGeary