Cinderella
Trish Cooke and Robert Hyman
Theatre Royal Stratford East
(2011)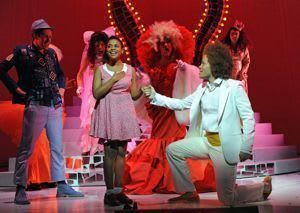 The Theatre Royal asked its audience what they'd like to see at Christmas and they asked for Cinderella, hence this revival of the 2007 production that was nominated for an Olivier Award (though with a few changes and a different cast) which seems even livelier than then. It is very much a music-driven show with lots of songs and moves and an audience song sheet number that forms an essential part of the action.
Over the centuries, there have been many variations on the Cinderella story. This one is set in the queendom of Guadalumpa where Prince Leo is about to be eighteen. The country's laws insist that by then he is supposed to marry. His wife will become queen allowing his mum, the current Queen, to step down and get on with enjoying life. If he doesn't, she still has to reign and retain all the royal responsibilities, so there is a ticking clock long before our Ella gets involved.
But Leo isn't ready to get married and his mate Don Dini is even less keen on having a girl split up their Batman and Robin partnership, though he reasons that if it's an ugly girl he'll still be first. He's quite relieved that when they bump into Ella in the street she rejects the advances of a prince who is so full of his own attraction.
Ella is still very much daddy's girl. Neither of them has got over her mother's death, but her hard-up artist dad, the Baron Pierre Sans Rien, has just sold a lot of pictures. He thinks that Ella needs a mother's care, so he has married the rich woman who bought them, solving two problems at once. But she isn't rich: she just has a book of cheques that bounce. It is her scheme to become a baroness, elevating her own daughters to the peerage to facilitate a royal marriage.
The situation doesn't look good for anyone, but with Buttons to cheer things up and Ella's mother, now a fairy, up there controlling the rain we can be sure there'll be a sunshine ending and plenty of laughs on the way.
Stephen Lloyd's chirpy Cockney Buttons gets things off to a flying start doing the audience warm up and could put anyone in a good mood, but in this friendly theatre the whole cast reach out across the non-existent footlights. For a moment, even Michael Bertenshaw's archly-eyebrowed nasty Stepmother nearly gets us on her side, while Marcus Ellard and Darren Hart (relinquishing their former roles as Don Dini and Buttons) make a marvellous pair of Ugly Sisters. These are three delightful dames whom you almost have to force yourself to boo.
Tony Jayawardeena makes the Baron the sort of dad we'd all like to have, while Sandra Bee is a no nonsense Fairy Godmother still learning to use her wings way above our heads; it's easy to see why the Baron and Ella miss her.
Shelley William's Queen, crown tilted on her head and the straw from a bottle of alcopop perennially in her mouth, can't wait to step down from the throne and set off round the world to go on a world tour. As the Prince, Craig Storrod struts his stuff bursting with ego but manages at the same time to be charming, and hip-pumping Stephen Hoo's dashing Don Dini suggests how closely he at least is bonded, though for a moment there seems a chance that his affections could transfer to Buttons since there is no chance that Leo is going to be able to resist Ayesha Antoine's outspoken and totally charming little Cinderella.
Kirsten Dempsey and Jenny Tiramani have kept the sets bright and simple like a colouring book with some stylish costumes, the Prince and Don Dini paired in shiny white satin and the Stepmother in bright red, with a ball dress like a distorted Edwardian fashion plate. There is no great transformation scene but a neat piece of theatre magic turns a pumpkin, Buttons's performing fleas and some white mice into a silver coach and pair and footmen and a shower of Christmas tinsel instantly converts her kitchen clothes into a glamorous ball gown. There is a vibrancy about the design, especially as lit by Jo Joelson, that matches the liveliness of the performers who always seem eager to break into Eleanor Peters-Savva's dances.
This is a panto every kid will enjoy. There is nothing "blue" about, despite a few hints of sexual innuendo. It was entirely appropriate that when a young lad with a name that even Michael Bertenshaw could not pronounce came up on stage to give assist in the marriage ceremony, the youngster refused to dive into the Dame's bosom to retrieve the cleric's cue card what had fallen there.
Musical director Ian MacGregor was cooking up a storm in the pit, but I am delighted to say that it didn't swamp things; Andrew Johnson's sound design ensured that I could hear every word—and that alone is unusual enough to recommend Kerry Michael and Matthew Xia's production which allows everyone in it a chance to shine and seems to give the audience just what they came for.
"Cinderella" runs at the Theatre Royal until 21st January 2012.
Reviewer: Howard Loxton