Cinderella
James Barry with music by Simon Slater
Theatre Royal Winchester
(2011)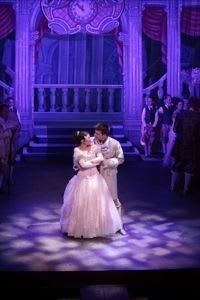 Cinderella is one of the most endearing and charming of all the pantos and the Theatre Royal's in house production is brimful of traditional family fun with plenty of laughs for the adults as well as the little ones.
There are some delightful moving graphics on the front cloth with shooting stars and mice running across the stage.
Kate Ankers is the appealing trainee Fairy Godmother complete with L-plates who is given a last chance to get her spells right.
The delightful Jack Cassidy is a bubbly Buttons who quickly has the audience on his side, sharing his secrets and encouraging audience participation, which the warm Winchester folk are happy to oblige.
Buttons has been searching for a girlfriend for ages, "I've been on so many blind dates I qualified for a guide dog." Yes it is one of those shows and the audience loved it.
Jack Corcoran is the bumbling Baron Hardup who has recently married the wicked Baroness, a superb performance from Kali Hughes who reminded me of Cruella De Vil from 1001 Dalmatians'.
This is not good news for poor Cinderella, the confident and captivating Serena Giacomini, as her stepsisters are horrible to her.
Julian Eardley as Beatrice Hardup and Clive Flint as Eugenie Hardup—well we are in the Theatre Royal—as the Ugly Sisters are good old fashioned accomplished dames bickering between each other with some of the oldest gags in the book, and build up a first class empathy with the audience. They have excellent comic timing and wonderful ad-libs and don't take themselves too seriously.
The dashing but slightly dim Prince Charming, an avid performance from Bryn Lucas, is ably assisted by the handsome Ian Curran as the assured Dandini.
Sally Stanyard's slick, simple choreography is a delight with the dancers from local dance schools. The ballet scene is well presented and the younger members dressed as the woodland creatures are enchanting.
The transformation scene is truly magical and spectacular with a beautiful coach all-sparkling with lights and a wonderful white horse that draws gasps from the audience.
The computer-generated journey to the Palace is inspired as well as the established knockabout fun, including a very funny ghost scene with tap dancing skeletons.
Simon Slater's catchy original score and James Barry's resourceful direction ensured that we all had a ball.
Cinderella runs until the 2nd January
Reviewer: Robin Strapp