Cinderella
Simon Aylin
QDOS Entertainment with One From The Heart
The Wyvern Theatre Swindon
(2011)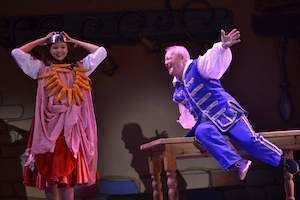 Swindon's Wyvern Theatre panto this year is the lavish fun filled Cinderella that's given a traditional family friendly interpretation by writer Simon Aylin.
There is something very special about the Swindon audience who enthusiastically entered into the spirit of Panto with gusto and were so loud that ear defenders should have been issued. They were having a ball, loving every minute of this splendid show and I must admit so did I.
The delightful Keith Chegwin is thoroughly enjoying his role as Buttons and has a wonderful empathy with audience. He is a vivacious performer throwing himself into the character with passion.
Alex Young is a modern rapping 'fan fairy astic' Fairy Godmother who often flies in from the wings to pronounce her spells.
Sassi Strallen is a sweet Cinderella with a good singing voice who captures the hearts of the audience and does love Buttons but only, "as a brother" much to his disappointment.
The wicked stepmother, a devilish performance by Jenny-Ann Topham, and her two sisters have arrived at Hardup Hall and are about to make Cinderella's life a complete misery.
Every Panto needs a Dame and here we have two accomplished performers with David Ashley as Windy Wendy towering above his sister in the most outlandish high heels and bizarre costumes. By contrast Neal Wright is the small Gail and their squabbling is a joy to watch.
Adam King is certainly charming as the prince who has fallen in love with Cinderella and Lewis Barnshaw is a worthy Dandini.
There are some spectacular special effects, and when the crystal coach arrived on stage pulled by two white ponies there were gasps from the audience. A truly magical theatrical moment.
Andrew Wright's slick choreography is energetically performed by a strong male ensemble aided by a team of juvenile dancers from local schools. There are some inventive touches such as using scooters and roller shoes at the ball.
It looked as if the whole audience were dancing in the aisles to the grand waltz, all determined to enjoy themselves and they had no problems joining in with the lively songs under the musical direction of Peter Mitchell.
Many of the time–honoured traditions were there in abundance: the ghost scene, the water cannons, the custard pie fun and the final song sheet.
Director Richard Frost has created an absolute cracker of a show that truly celebrates the spirit of Christmas and you can't fail to leave the theatre with a big smile as you face the freezing cold weather. GO!
Cinderella runs until the 8th January
Reviewer: Robin Strapp