Cinderella
Trish Cooke (Book & Lyrics) & Robert Hyman (Music & Lyrics)
Theatre Royal Stratford East
(2007)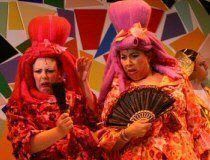 As usual with Theatre Royal pantos this is a traditional show with a twist. It is set on a Caribbean island where hard-up Baron Pierre Sans Rien is an unsuccessful abstract painter and Prince Leo is not at all keen on settling down and getting married. Designer Jenny Tiramani uses bright costumes and very simple sets to great effect. You get mice footmen and a gauzy coach to take Cinders off to the ball but this production does not need elaborate decor to get its audience excited: that's guaranteed from the start with Darren Hart's lively Buttons welcoming them to the theatre and getting things going.
It isn't quite a through composed show but, with ultra street-hip dialogue from the prince (Kyl Messios: no thigh-slapping girl but a good looking guy) and his side kick (Marcus Ellard), it feels like it. The audience is foot-tapping all the time, except perhaps when Michael Bertenshaw's wonderfully haughty and slightly common stepmother is haranguing them. She is supported by the not-so-ugly but quite ghastly daughters (Sharona Sassoon and Catherine Millsom) in overdressed contrast to Debbie Korley's straightforward but feisty Ella who only puts up with things because she wants to make her father happy.
This is a high energy show fuelled by the warmth of the audience responding to a cast that makes these real characters not cut-out fairy tale figures and bursts into Omar F. Okai's choreography whenever the band strikes up. The participation song is rehearsed by the Fairy (Debbralee Wells) - who is Ella's real mother, now in charge of making rain up in heaven. It gives the audience a real part in the action: to stop the Prince from marrying the wrong bride. is a happy ending not just for Prince and Ella: while Stepmother Woz Mine-Izzmine goes off in search of a new husband, Ella's dad (Royce Ullah) has clearly caught the eye of swinging Queen Eugenie (Ellen Grady) and not just because she likes his painting!
This is a great family show, though perhaps a little too fast moving for the tiniest tots to follow. It helps to have an ear for a West Indian accent and a streetwise vocabulary. Oldies are given a little explanation to help them along but youngsters will feel entirely at home. I took a foreign visitor for her first taste of pantomime. She is no youngster and she loved it. Stratford and director Kerry Michael have delivered again.
Until 19th January
Reviewer: Howard Loxton