Cinderella
Paul Hendy
Evolution Pantomimes
Yvonne Arnaud Theatre, Guildford
(2009)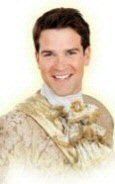 Evolution Pantomimes have done it again. Not only is this year's pantomime more lavish and funnier than ever, but it has lost none of the traditional family feeling which always makes it so special. Producer Emily Wood has also produced a baby girl who already has her name in the credits as 'Executive in Charge of Dribble' and, courtesy of video projection, is the face of Cinderella as a baby. Her four year old brother Freddie is Comedy Consultant and husband Paul Hendy has written the script.
The 'family' tradition doesn't stop there. Many of the cast are third year students from the Guildford School of Acting, and in her third and final year of the musical theatre course Rebecca Brewer shows that she is ready to take on the world. Confident, with great stage presence and a superb singing voice, she is a Cinderella with spirit, and you feel that she would not submit for too long to the tyranny of the Ugly Sisters. She is also very attractive - a fact appreciated by the gentleman behind me who could not resist making approving comments.
Her Prince Charming is former Blue Peter presenter Gethin Jones - a man of multiple talents with some extraordinary and often dangerous adventures to his credit, this is his very first pantomime and he took to it well. If he did fluff a couple of lines it only endeared him to the audience and he managed "Llanfairpwllgwyngyllgogerychwyrndrobwllllantysiliogogogoch" (the longest town name in the world) without a hitch. Well - he is Welsh after all!
His time in television's Strictly Come Dancing inspired a reconstruction scene which had the whole audience helpless with laughter. 'Brucie' and 'Twice Daly' introduced the contestants and Jones (a finalist in the programme) demonstrated his expertise in dance - including a very cheeky 'bum wiggle'.
Last year's Genie has become this year's Dandini, and 'all-round comedy entertainer' Hilary O'Neil takes to the role with enthusiastic exuberance, making use of her talent as an impressionist and becoming the most entertaining Dandini I have ever seen.
After seven years playing the Dame, Royce Mills has discarded his frock and is introduced by an ebullient Buttons (Lloyd Hollett) as Baron 'script-out-the-window' Hardup. He does tend to insert thoughtful comments, and his "the wood gets spookier in the middle of the second act" gives a broad hint that the essential ghost scene is about to be upon us.
Helga Wood surpassed herself with sets and costumes - particularly opulent for the extravagantly beautiful coach scene with the adorable white ponies. The dresses for the Ugly Sisters were as bizarre as ever, and, again with a nod to Strictly, they were named after two of the judges - Arlene and Alesha. Director and choreographer Gerry Tebbutt, as Arlene, picked up his skirts for a very nifty tap routine and the rather larger Peter Gordon is Alesha (no reference to the original), while Fairy Godmother (Gay Soper) did such a good job that she gained her wand and wings and became a fully qualified Fairy.
Dancing and music went with a joyous swing - particularly in "We're throwing a Ball Tonight", the panto babes (recruited from local children) were adorable and performed extremely well - and even the ponies didn't put a hoof wrong.
There may be pantomimes with a little more polish, there may be pantomimes chock full of expensive 'special effects', but I guarantee you won't find one happier or more enjoyable than this ...even the rain outside didn't seem quite so bad.
Reviewer: Sheila Connor