Cinderella
Jonathan Kiley, with additional material by Julian Clary
The Hawth, Crawley
(2009)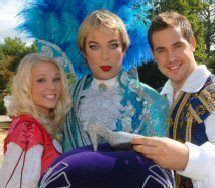 'Never work with children or animals' is the advice given to aspiring thespians - and I would add to that "or Julian Clary". Seemingly with no effort his Dandini effectively manages to upstage the bemused Prince Charming (Danny Bayne - winner of ITV's Grease is the Word) as well as almost everybody else on stage. Appearing in ever more flamboyantly exotic outfits and in increasingly bizarre forms of glittering transport, he has the audience in the palm of his hand from the start.
He can't sing (speaks his lyrics) and has a tenuous hold on the intricacies of the quickstep even if he did reach the finals of Strictly Come Dancing, but what he does he does brilliantly with his own special flair and brand of wit, and if you love Julian Clary (and I do) you will love this show, although it has to be said that a lot of the humour is over the heads of most of the children. While you might say there is 'adult content', there is nothing smutty or rude, and there are definitely no swear words. The humour is derived from timing, pertinent pauses, subtly suggestive expressions, and a rather camp delivery - and really it's in the mind of the beholder, and the beholders' minds were working overtime.
The wildly energetic Joe Trancini throws himself, often quite literally, into the role of Buttons and he is far and away the favourite of the children. They thoroughly enjoyed his comical and energetic dancing, loved the one very cleverly contrived 'pie in the face' episode, enjoyed and laughed at his abortive attempts to propose to Cinderella, but the sad aspect of rejected love was not neglected and the chorus of 'aahs' for his woebegone face reflected the sympathy of the audience, particularly the children who had taken him to their hearts.
The Ugly Sisters (Stephen Carlile and Steven Kynman) really go town in every number in almost as energetic a manner as Buttons and have almost as many changes of costume as Dandini, although outrageous rather than outrageously glamorous - there is no expense spared in this lavish production, except perhaps for the band which is composed of only three musicians, although they somehow brilliantly manage to give the impression of a full orchestra.
Golden-voiced Rosemary Ashe is a glamorous Fairy Godmother with every syllable as clear as a bell, and twenty-year old Vicky Longley, who began her professional career at the age of thirteen, is an enchanting Cinderella.
The Roshe panto team of juveniles, all aged under thirteen, performed with very professional expertise and confidence and - surprise - the dog Churchill makes an appearance as himself. "Oh, Yes!" So he wasn't lying in his TV adverts."Oh, No!"
My two young guests, aged six and seven (Ryan and Joe), enjoyed themselves enormously and enthusiastically joined in with cheering, shouting and booing as appropriate, and there was great excitement after the show when they managed to collect autographs from almost every one of the cast - Buttons being the first and most important, and the Ugly Sisters being hard to recognise out of costume although the observant Ryan noticed they were still wearing nail polish. The programme is also chock full of child-friendly projects to keep them occupied during the interval.
A good time was had by all, everyone leaving the theatre in high spirits - a very special treat to begin the Christmas celebrations.
Reviewer: Sheila Connor