Cinderella on Ice
The Imperial Ice Stars
The Opera House, Manchester, and touring
(2009)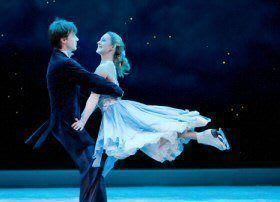 The Imperial Ice Stars returned to Manchester after their award winning Swan Lake on Ice in 2007. Since their inception in 2003 they have performed to over 2 million people across the world and Choreographer Tony Mercer has assembled another fantastic line up of champion skaters.
This version of Cinderella is not the most familiar to western audiences. There are some recognisable characters and some not often associated with the tale. After her mother dies at the opening of the piece ten years pass and Cinderella lives with her Clockmaker Father and her Stepmother. There is a theme of clocks and time running throughout the evening. In place of a Fairy Godmother there is a mysterious Gypsy. Part of the plot revolves around a performance of Swan Lake at the local theatre with competition between Cinderella her Stepmother and her Stepsisters. Some of this was rather confusing.
The ice dancing was an engaging, highly skilled but occasionally mystifying blend of ballet, ice skating and even sometimes pantomime
A number of the youngest children in the audience grew restless as some of the scenes did go on for rather a long time though they were undeniably spectacular. This is not primarily a show for very young children given the degree of concentration which was necessary. One or two families did not return after the interval.
However there were always beautiful stage pictures on offer with a good balance between ensemble dancing and solos and duos. On balance the female skaters were more memorable than the athletic male skaters. Dry Ice and pyrotechnics were used very effectively. The lighting also conveyed much of the atmosphere. The tableau closing Act one was particularly wonderful. The dancers appeared each carrying what looked like a piece of corrugated iron. Then at the last moment they joined together in a sculpture which formed a carriage which lit up as the curtain fell. This was theatrical magic.
As Cinderella Olga Sharutenko is such a dazzling star. Her use of hand and arm gestures as well as her incredible grace and poise made her very easy on the eye. Her performance appeared to be effortless especially when flying.
In this version there is no Prince Charming instead we had the Lord Mayor's Son who finds, then loses and finally refinds Cinderella. Andrei Penkine brought an athletic yet gentle energy onto the stage. His performance reached its height in the final pas de deux with Olga Sharutenko when he held on to her as she flew on the rope and so they both flew and twirled around the stage. The dry ice faded and stars appeared on the cyclorama. This was a strikingly romantic effect.
The Wicked Stepmother was more haughty than downright cruel and Olena Pyatash had charm and style as well as a nasty streak. She also looked the most elegant on the stage in her signal colour of scarlet. The two Stepsisters played by Svetlana Fadeeva and Alina Kharetdinova were not exactly ugly in this production but they were precocious and suitably mischievous in equal measure. Also worthy of note was Andrei Bannikov as a very camp and playful Dressmaker. He brought an impish sense of fun onto the stage which was sometimes otherwise lacking.
The costumes designed by Albina Gabueva were bright and filled with detail. There were beautifully matched browns and greys. Cinderella's ball gown was a mix of sparkling silver and pale blue skirt. The very clever effect of the hands of the clock dancing was brilliantly realised. The dancers wore golden all in one costumes with mini crowns and each had a number on their bodice. They moved like toy soldiers and whenever they appeared as these characters there was much in the way of acrobatics. This was particularly thrilling and, of course, highly dangerous both to those executing the expert rolls and handstands and the other dancers.
It is worth noting that to be able to perform in any way on ice is very skilled in itself. The size of the rink on the stage was much smaller than that in which the company is used to dancing. This might have been why there were one or two errors in the very early part of the first half. All the familiar ice dance moves were on offer. There were twirls and twists in various dazzling combinations. Male dancers lifted and held female dancers sometimes with just one arm whilst spinning or gliding around the rink.
The music by Tim A Duncan and Edward Barnwell had echoes of a range of composers. This reviewer noted elements of Strauss and Bach as well as Tchaikovsky. The finale had a clearly celtic feel to it and the dancers did an electrifying step and kick on the ice. They had to dance to a recording to ensure exact timings were maintained.
The final tableau had almost every dancer holding another one aloft in a fitting tribute to a marvellous evening of ice dancing.
Cinderella on Ice will please the families at which it is clearly aimed. However this reviewer would urge those with very young children to consider very carefully before booking.
The world tour continues ..
Sheila Connor reviewed this production in Woking
Reviewer: Andrew Edwards