Cinderella
Julius Green
Theatre Royal, Windsor
(2010)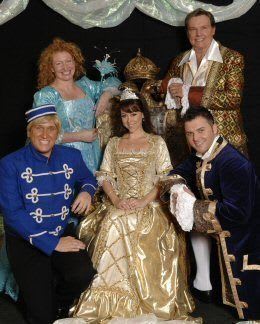 The Theatre Royal, Windsor celebrates its centenary this season and therefore it is somewhat fitting that this year's pantomime is Cinderella, a tale where a ticking clock plays a most important part.
Although the theatre is looking forward to its next 100 years of theatrical fun, this year's pantomime is, in many ways, the end of an era as it mourns the death of Windsor's very own Dame for a decade Martin Sharvell-Martin. It is truly sad that he never got to be onstage for the celebrations but his spirit lives on as he acted as the show's script consultant before passing away earlier this year.
The Windsor pantomime boasts an all-star cast, but in many ways this is the production's downfall. There are too many songs, which seem only there to fully exploit the talents of Lisa Scott-Lee as Cinderella, Johnny Shentall as Prince Charming, and, back for another year, Jess Conrad as the Baron.
In an aside to the audience, Conrad explains that he is trying to convince his agent that he can play nice roles and hence this year he appears as Cinder's caring father. Dressed in a Principal Boy outfit, his performance is rather self-indulgent and he is given far too many songs to sing. No one can deny that Conrad has a good singing voice, but numbers such as 'Thank You Very Much' from Scrooge and the Black Eyes Peas' 'I Gotta Feeling' would benefit greatly from the whole cast's involvement.
In a deviation to the usual plot, the Baron becomes romantically linked with the Fairy Godmother, played by Charlie Dimmock. The Ground Force star does not glitter as much as she should, but then Dimmock is not a trained actress and, although having appeared in Calendar Girls earlier this year, appears awkward on stage. It is also surprising that her Ground Force roots are not alluded to during the transformation sequence, especially as a pumpkin is needed from the garden. Such references do, however, allow for some rather smutty innuendo between Dimmock, disguised as Lady Bloom, and Conrad's Baron at the ball; she likes his "self raising" flower and enjoys admiring his "hardy perennial in the palace garden." Such dialogue, when coupled with Conrad's glittering codpiece and smarmy grin, takes it just that little bit too far.
Kevin Cruise makes a lovable Buttons, although he is not on stage enough. He works the crowd like a natural, and the audience really enjoy looking after his mince pie, as well as being privy to his pièce de résistance: a Vegas style cabaret entertainment at the Royal Ball, complete with 'YMCA' and spangles galore.
Surprisingly, the strongest actors in this Cinderella are the usually bland roles of Prince and Dandini. Both Shentall and Graham Newell have great stage presence and make a refreshingly comic first entrance complete with coconuts à la Monty Python. Newell shows great potential as a pantomime Comic, with his cheeky grin and comic timing - perhaps we'll see him as Muddles next year when the theatre produces Snow White?
Unfortunately some of the song choices appear rather odd and do not fit the storyline. It is most baffling as to why the ensemble, dressed as cleaners, sing 'Hard Knock Life' in Hard Up Hall; the Baron can hardly afford to pay Buttons, let alone an entire staff. But perhaps they are working as servants for free, abandoned by their parents as the line 'No one cares for you a smidge / When you're in an orphanage' has been retained?
During this scene we are also treated to the slapstick mangle sequence usually found in Aladdin. It doesn't quite work here and it is obvious that its inclusion is merely a device to introduce Fireman Sam who comes to help when things get a bit out of hand. This pantomime is star, rather than story driven.
As Uglies, Christopher Beeny and Steven Blakeley are more old spinsters than acid-tongued bitches, but they deliver their patter with conviction and are well received by the audience. It is disappointing that they too don't receive more stage time and that the ticket tearing scene appears very rushed.
Running at around 2 hours and 10 minutes including the interval, Windsor's Cinderella is the perfect length; it is just a shame that so many songs get in the way of allowing more of their stars to shine.
Playing until 9th January 2011
Reviewer: Simon Sladen