Cinderella
Eric Potts
First Family Entertainment
New Victoria Theatre, Woking
(2009)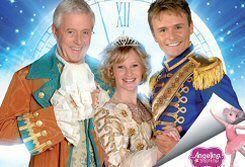 Everyone remembers their first panto; a wondrous moment in which you think: "Wow, the theatre's for me!" Woking will always hold a special place in my heart because of this, for Woking was where my Grandmother used to take her many grandchildren each year to boo the baddy, cheer the fairy and participate in this very British form of festive fun.
This year's pantomime, presented by First Family Entertainment, is Cinderella, with a starry cast lead by Joanna Page (Gavin and Stacey) in the title role, Jon from SClub7 as Prince Charming and Michael Aspel as Baron Hardup.
There are a few references to their pasts, but this does not distract from the evening's proceedings: Aspel enters to Antiques Roadshow music and at one point presents Buttons with a mock Big Red Book.
Jon Lee makes an incredibly charming Prince, with a voice as velvety as his costume, paired with a lovable Cinderella in Page. Their duets provide the schmultz needed and are so well sung that the little 'uns don't lose interest. Unfortunately he doesn't sing any songs from his SClub7 days, but the allusions are there, with Buttons reminding us that the Prince has "Never had a dream come true" and that "There ain't no party like an SClub party."
Cheeky chappy Buttons is wonderfully played by Tucker who has the kids eating out of the palm of his hand. But Tucker isn't all just jokes and pies in the face; he remembers the most important aspect of the Button's role - his love for Cinderella. When rejected by her as a lover, Tucker doesn't play it for laughs and the audience rightly feel sorry for him; great empathy is created. Too often pantomime casts exist where everyone's a comic and the tenderness of each plot is therefore lost; this most definitely was not the case here.
You can always tell what has been popular each year as it manifests itself on the seasonal stage; this year it's insurance adverts. The Lyric, Hammersmith has a 'meerkat' instead of a 'market' and in Woking when Buttons can't decide which Ugly Sister is the ugliest he launches into a rib tickling version of "Go Compare!"
Graham Hoadly and Scott St Martyn are a pair of wickedly funny Uglies with some well written lines, full of saucy innuendo, penned by Eric Potts. The team are extremely skilled in the genre and this shows. They elicit laughs and boos - something not easy to achieve. The pair also have some glorious costumes. For their first entrance, staged to 'Here Come The Girls', Whitney and Britney enter dressed in an Orange and Lemon costume courtesy of the show's sponsors: Robinsons.
Robinsons are extremely prominent in the show: Front-of-house staff wear Robinson's T-shirts, the logo is projected onto the proscenium, on-stage shopping baskets contain Robinson's only products and the children are rewarded with Robinson's goody bags after the sing-song. Of course sponsorship is nothing new, but such overt product placement reminds us of the commercial side of our beloved theatrical form.
Popular music numbers please the crowd of kids in the audience; however the song choice for the transformation sequence (with real Shetland ponies and snow) appeared a little odd. Cinderella's Fairy Godmother sings "When You Believe" from The Prince of Egypt, which includes the lyric "There can be miracles, when you believe" numerous times throughout the song. This is problematic as the transformation is no miracle, it is pure magic, and the inclusion of the Hebrew chorus lead to overt religious connotations being ascribed to the Fairy Godmother.
That aside, this production is full of fun and had the entire audience on their feet for "I'm a Believer" after the Royal Wedding. Audience and cast alike seemed to have a ball, dancing and singing in the aisles, whilst Michael Aspel boogied on down performing a rather nifty hand jive on stage worth the ticket price alone! Who knows, we might even see him on Strictly soon...
Playing until 10th January 2010
Reviewer: Simon Sladen