Cion: Requiem of Ravel's Bolero
Gregory Maqoma
Vuyani Dance Theatre
Barbican - Dance Umbrella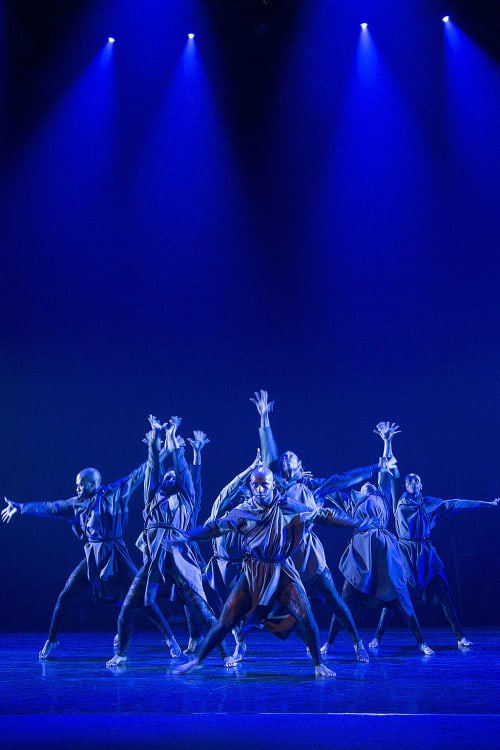 At the Barbican as part of Dance Umbrella, Gregory Maqoma's Cion: Requiem of Ravel's Bolero is a South African tribal lament, deeply embedded within unfathomable traditions of mourning around death, yet powerful enough to transcend cultural barriers and speak to all.
Cion, meaning Zion, the African church, is expressed through sorrowful poetic song and movement. Maqoma (The Head and the Load; Tree) plays Toloki, a character from Zakes Mda's novels Cion and Ways of Dying. A paid mourner, his narrative journey unfolds alongside Ravel's Bolero, reinterpreted through stirring song and percussion of a live a cappella South African quartet.
The opening images are of a graveyard with crosses hovering above and onstage. A group of figures, huddled together, are starkly lit in a central cluster like a religious tableau with arms raising upwards towards the heavens expressing deep angst as bodies shake and writhe in what appears to be a ritualistic mourning ceremony.
A singer cries and wails in an unsettling opening to the musical accompaniment, forewarning that this is a far cry from a harmonious night of toe-tapping gospel tunes. As deep, disturbing caterwauling gradually transforms into song, the mood is set as one of bleakness. A musician marks out a repetitive beat on the drum and sorrow is prevalent.
Cion is structured into multiple elements charting Toloki's travels through imaginary bleak spaces, graveyards mostly, inhabited by spirits. Maqoma as Toloki imbues terrifyingly haunted spiritual-like qualities into character, where he veers from leader of the tribe, literally moving the cast around by their ears, tall and forbidding, to romantic, lovesick man. All his movements are executed with elegant, efficient lines, dramatically lit by Mannie Manim. He's accompanied by eight astounding dancers from the Vuyani Dance Theatre, all swinging hair, barrel turns and bare feet.
There are moments of frustration when one of the troupe breaks into an impassioned speech in Xhosa and I would dearly love to follow what's got him so worked up, but instead it becomes a barrage of angry sound that adds to the frustration and pain of the evening.
Not all of the speech is indecipherable. There's a hearbreaking section when a young women describes how many young pregnant women want to end their pregnancies and the burden of procreation. The same dancer flirts and twists around Toloki, twinkling with laughter, not tears, as his steely metal melts under the duress of sexual attraction. This playful, light of touch moment offers the audience a welcome breather from the overall picture of doom, death, decay and gloom.
Reviewer: Rachel Nouchi