Circa
Tom Ratcliffe
work.Theatre in a co-production with Harlow Playhouse
Old Red Lion Theatre
–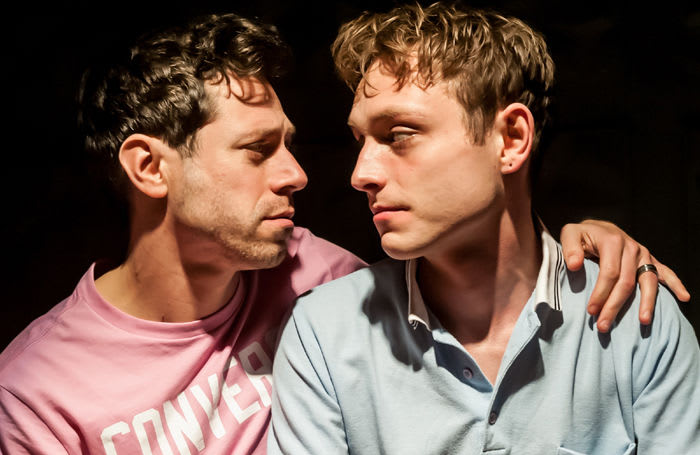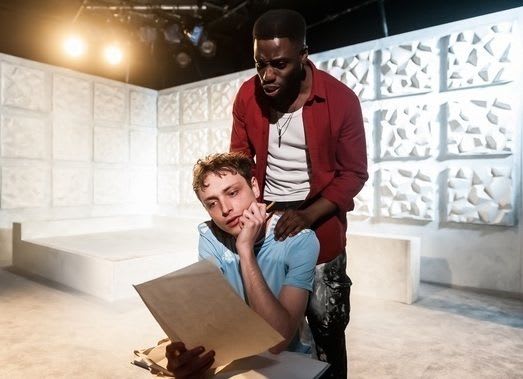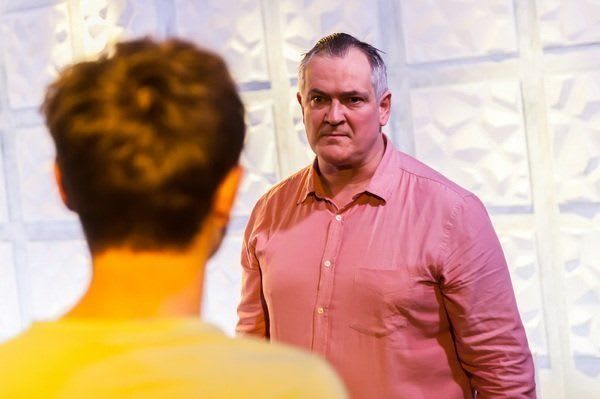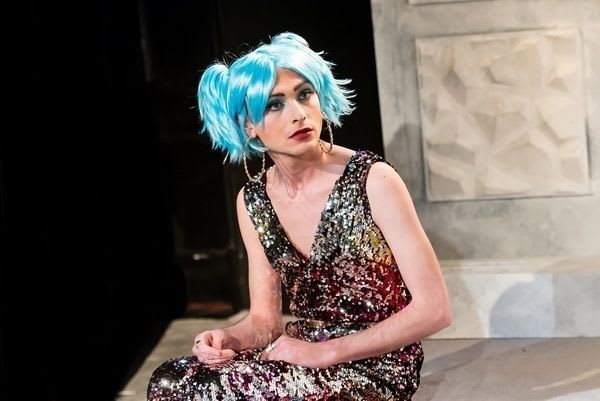 Now that gay men (in the UK at least) have legal equality and can marry and adopt children, can they live a conventional family life and would they want to?
Circa, which premièred in Amsterdam three years ago and, after a brief appearance in the Vaults, now has a longer London run, isn't the only recent play to ask such questions, but it does so by looking at one man's experience over the years from teenage at the beginning of the 21st century through thirty years into the future.
This isn't, however, a play making predictions, apart from one advance in tracking technology, and though recent rights and freedoms have made it easier there have always been men who looked for a life of monogamous domesticity rather than a succession of sexual encounters.
Such a person is Tom Radcliffe's nameless central character 'The Man' (the role played by different actors as he ages). The first of his liaisons presented is a disastrous hook-up through a dating site with a heavily built man claiming to be 35 but clearly much older who is inhospitable, selfish, rather effeminate and eventually impotent.
Next we see him pulled into a bedroom at a party by a school chum who wants to play sex games, then at art school in London we find him actually in love, but with an older student, Eric, who is leaving for Paris. Moving on, there's a scene with a masochistic pick-up but, as the years pass, he settles down with partner Ethan. It's now that discussions take place about marriage and children, though Ethan is more keen on getting a dog.
A year later, they are on holiday in Spain, moving away from monogamy, when Eric turns up. Could that relationship be rekindled? Further encounters introduce experiments with heterosexuality until sometime in the future, when The Man is nearly as old as the one seen in his first encounter, and he has made a dating app assignation with a teenager bringing the pattern full circle.
Baldly described, this may sound an unsubtle catalogue of an unhappy progress, a formulaic attempt to detail the pattern of gay sexual experience, but, given sensitive performance, it becomes much more than that. It doesn't explore situations in detail but raises a whole range of issues by a sort of osmosis, not least by an implied questioning of what keeps being restated.
"No one sleeps with one person for ever," says the rather odious pick up. He is talking about gay men, but perhaps it is true of most people. He then ridicules The Man's youthful idea of domesticity declaring: "it doesn't work like that for us." But those two ideas don't necessarily go together. These days, few people, gay or straight, go through life having had only one sexual partner, but that doesn't mean they can never settle down with a partner. Some managed it even when their lives broke the law; now they can live openly it must be easier.
Sustaining any relationship, whatever your orientation, needs commitment, but Circa may picture things too pessimistically, though it presents a very honest picture of the situation for some.
Anthony Gabriel is obnoxious in quite different ways as each of the two Older Men whose behaviour may result from the constraints they have grown up with and, when he later appears as the mature protagonist, it's the culmination of a pattern of loneliness.
Thomas Flynn plays the Young Man with a naïve bewilderment, learning to cope in a world that doesn't live by his rules, appearing very differently later as a rent boy drag queen. Daniel Abelson is the school chum seducer who gets a thrill from risk but won't go beyond what he knows and then takes over the main role when the Man grows up. Joseph Rowe is charming as the heartbreaker First Love who goes on to success but not happiness and Jenna Fincken plays the slightly kinky woman the Man settles for with an edge of appropriate bafflement.
In Luke W Robson's abstract setting, Andrew Twyman's production moves rapidly with blackouts as liaisons reach sexual activity, the lights going up again as clothing is rebuttoned. Scene transitions moving time forward have the cast clearing props and helping the Man into new clothes or replacing him. It is a formality that is immediately accepted, its openness matching the honesty of the whole play. Circa is indeed honest, but it is not the whole truth.
Reviewer: Howard Loxton