Circus Oz
Circus Oz
Derngate Theatre, Northampton, and touring
(2008)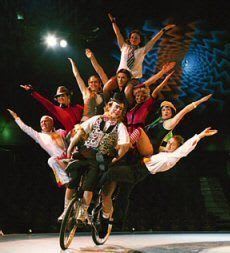 Circus Oz has burst on to the Northampton scene to celebrate its 30th birthday this week, with the offer of free entry for anyone turning 30 this year. Whether your ticket is a freebie or not, you are guaranteed to be entertained by this exciting and theatrical circus.
This is undoubtedly Australian: loud, brash and with no apology. The multi-skilled, multi-tasking performers are led by a compare who seems like an extra from Kath and Kim. What is impressive with the company is their effortless ability to slip into different roles, each one delivered with exceptional energy.
The acts varied from tightrope walking, to a contortionist - many of your traditional 'circus turns,' but always with a slight twist. There was juggling in different dimensions and fantastic aerial acrobats, all presented simply, with no sound effects or explosions.
Perhaps what sets this performance aside is the theatrically of the circus. The show has elements of burlesque and kitsch, from the costumes and make-up through to the attitude of the performers.
There are also some excellent examples of physical slapstick throughout Circus Oz. The 'modern' clown provided intricate moments of visual brilliance and this, coupled with sound comic timing, made for enjoyable interludes.
The first act of this particular version of Circus Oz definitely held the gold. Not that the second act was a let down, it just felt like a sideshow to the main event.
And what a main event. The pole-acrobatics were phenomenal, the Tango scene, where chairs and performers seemed to be suspended in mid-air was breathtaking - there was always a sense of danger, moments where I felt as though my heart was in my mouth and I dare not breathe.
This is what makes Circus Oz such an entertaining experience: those elements of 'dangerous' acts mixed in with physical theatre and slapstick comedy; add to this a touch of Burlesque and you have a birthday party that cannot be missed.
Circus Oz plays at the Royal and Derngate Theatre, Northampton until 12th September.
Reviewer: John Johnson