Cirkopolis
Directed by Jeannot Painchaud and Dave St-Pierre
Cirque Éloize
Peacock Theatre
–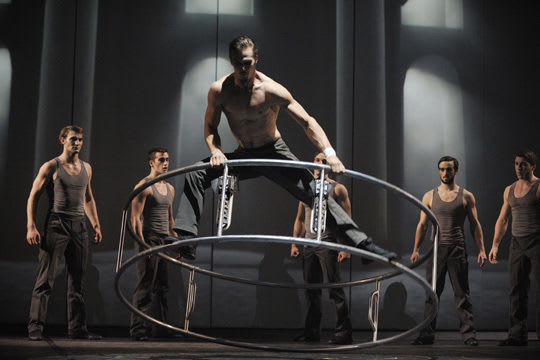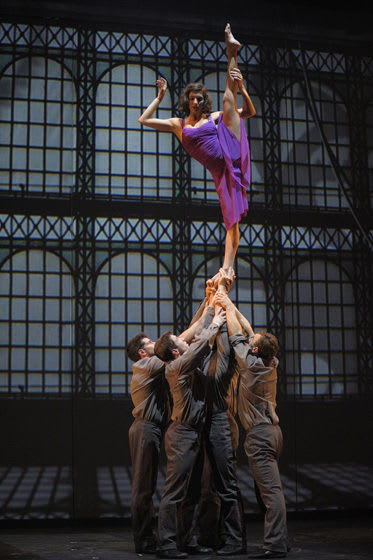 Cirque Éloize, based in Montreal, is a sophisticated circus company that embraces dance, great design and strong theatricality along with circus skills.
The group of seven who founded the company all came from the Magdalena Islands in the Gulf of St Lawrence and the name Éloize means a lightning bolt in the local Acadian patois. It's not a bad name for a company that sets out to have a dazzling impact.
The dozen performers, who include performers from the UK, France, Spain, the Netherlands and Germany as well as Canada, are all multi-skilled, joining in or providing support for their colleagues' specialist acts. This can produce a stage full of jugglers, banquine leapers thrown up by and landing upon their colleagues' hands, teeterboard flyers or dancers to frame a solo performance.
It is a show of continuous action and real animation that is given a structural form by directors Jeannot Painchaud and Dave St-Pierre that draws its inspiration from such futuristic sources as Fritz Lang's Metropolis and the dark shadows of Franz Kafka's The Trial.
Designer Robert Massicote with collaborator on video images Alexis Laurence provides a setting of swivelling panels on which is projected a series of settings, often tracking inwards on a perspective or upwards through towering structures that present a modernistic world full of rotating machinery, huge cogwheels interlocking as though grinding time.
It is a world in which people can seem insignificant and trapped, uniform office workers in their raincoats and trilbies or grey-clad factory hands. At its centre is Ashley Carr as an exceptional kind of clown character like Kafka's K, first seen stuck in a routine office role, harassed by everyone, though, as the show continues, sometimes having life brightened by the spectacular and daring way in which individuals break out from their monotonous lives to add colour and excitement with their circus skills.
Samuel Charlton and Nelson Caillard have the first spot displaying almost incredible hand-to-hand lifting and balancing. Léa Toran Jenner gracefully circles the stage in control of a spinning Cyr wheel, Maria Combarros performs contortions both grounded and high on a trapeze or suspended by a male partner, Joris de Jong has a solo juggling act with multiple dumbbells wrapped in lively choreography and Jérôme Sordillon has an almost unbelievable ability to control his body hanging from two straps high above.
Maude Arseneault, Michaël Bruyère-Labbe and Olivier Poitras lead the display of rigid control and rapid sliding on the Chinese Pole; Frédéric Lemieux-Cormier, Jonathan Julien are joined by the other men circle inside, leap through and performing acrobatics on the German Wheel and almost everyone seems to be involved in Banquine leaps with the flyers cast up by and landing upon the catchers' hands and Teeterboard display in which a leap down onto a seesaw throws the flyer up from the other end to somersault and land with incredible precision.
This is a non-stop show that is 90 minutes packed with excitement and a few snatches of humour that pairs daring feats with bold choreography to the delight of a packed audience. It is a great half-term show, especially with under-twelves at half-price, that displays its performers' skills in a setting of energetic theatricality.
Reviewer: Howard Loxton