Cirque Berserk!

Zippos
The Lyric, Plymouth Theatre Royal
–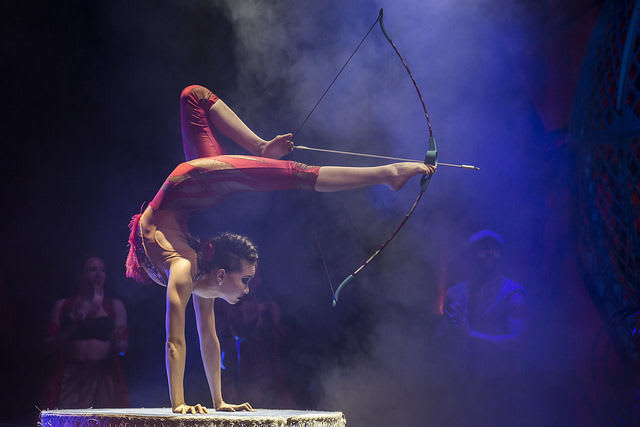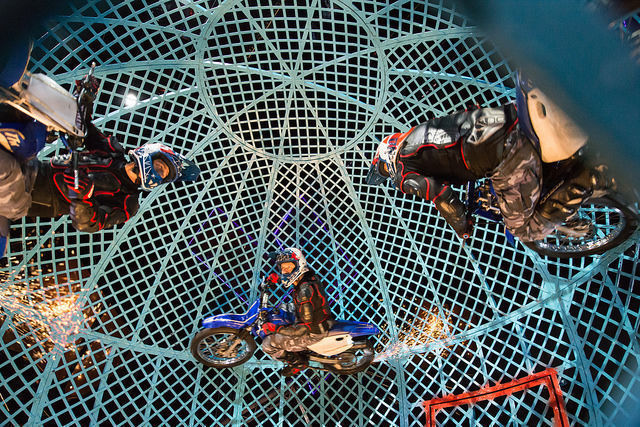 Designed specifically for proscenium, Zippos's high octane Cirque Berserk! is "real circus made for theatre".
Celebrating 250 years of all things Big Top, an international 30+ strong troupe melds old-fashioned circus skills with daredevil stunts adding a hint of fairground and Tiller Girls for a couple of hours of thrills and spills.
The slick Timbuktu Tumblers open with a fantastic acrobatic sequence—including rope skipping quite unlike schoolday memories—which swiftly segues into drums, juggling and Luciano Gabriel's hair-raising bolas.
And so follows act fast upon act: aerial synchronicity and solos with hoops, rings, silks and straps; sees-saws flinging fierce chainmail-clad, helmeted Cuban Tropicanas into lofty seats; body balances, towers and odd monsters culminating with three motorbikes riding the wall of death around a plumed dancer within a small globe centre stage.
Discarding the blaring electronic soundscape for fairground honky tonk and a more gaudy feel in the second act, Germaine displays some astoundingly nifty foot juggling complete with fire; Czech knife-thrower Toni and his anonymous target avoid axedents; there's whips and chair stacks; tambourines, more lofty antics and contortionist Odka who escapes her belljar to fire arrows with her feet. And the grand finale involves that wall of death globe again.
Threaded throughout, the Mustache Brothers clown around with slapstick, ladders and superb timing allowing the audience to catch its breath.
Just under two hours of family entertainment.
Reviewer: Karen Bussell