Cirque Berserk

Martin Burton for the Zippos Organisation
Peacock Theatre
–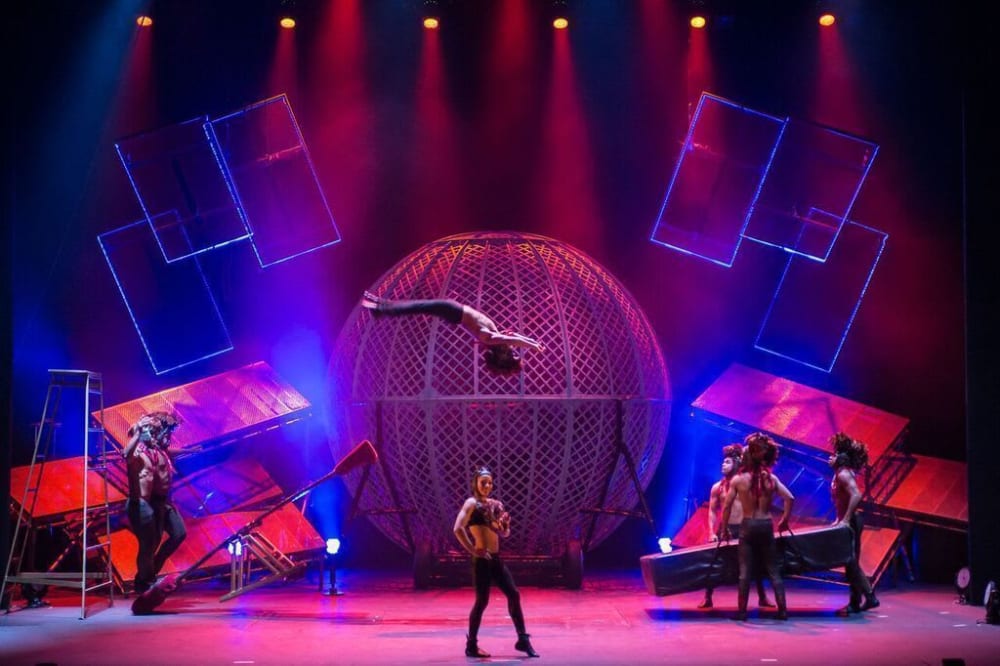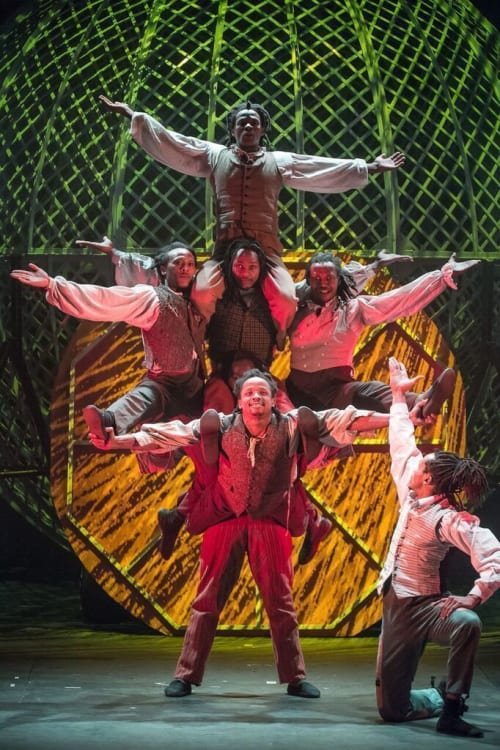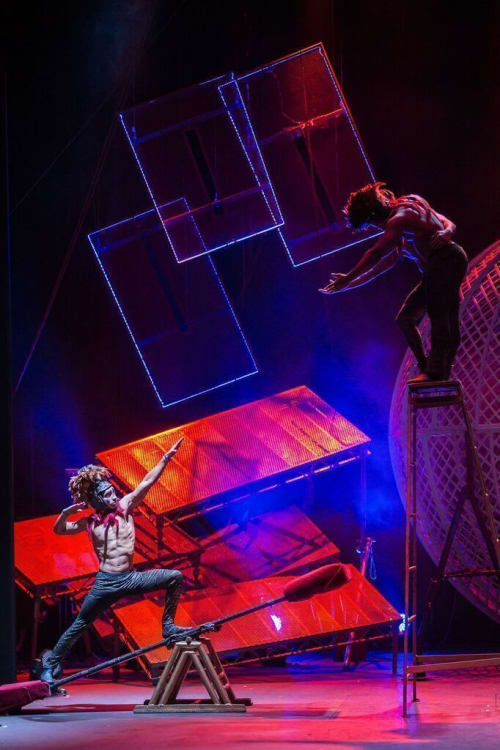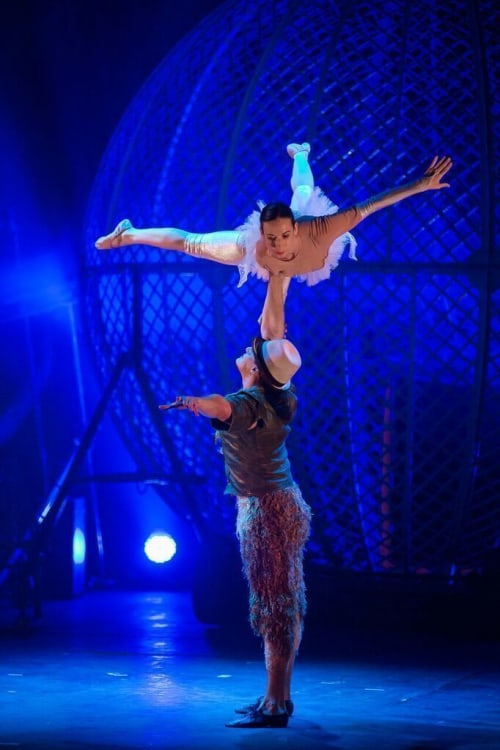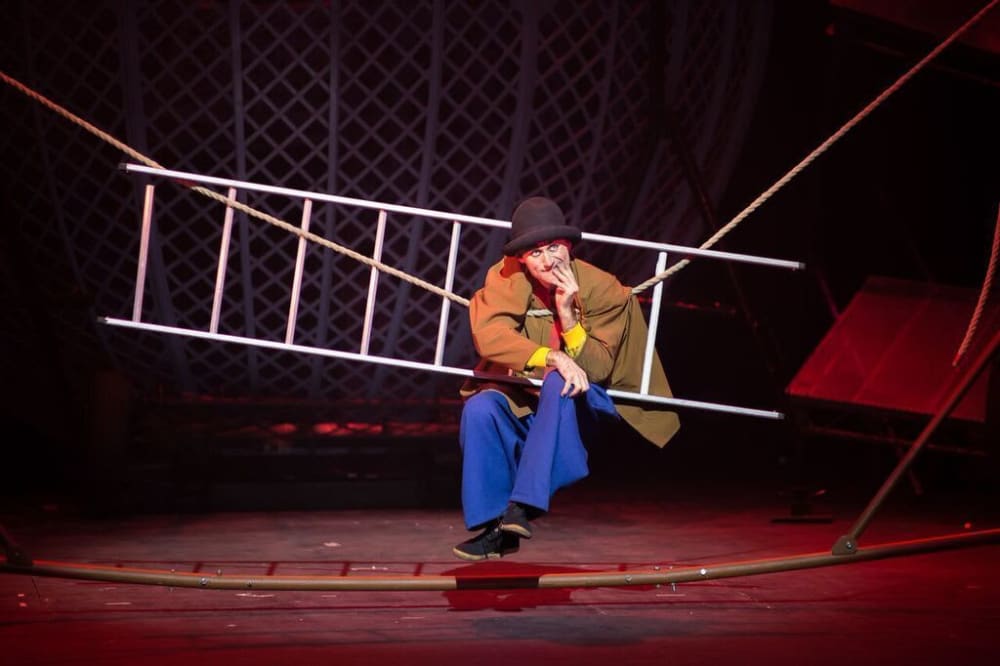 Zippos Circus has been long established touring under canvas but this is a rethinking of their presentation designed for theatre performance. There are no animal acts, no ringmaster and no sawdust and individual acts have been integrated into a continuous performance of stylish staging.
It doesn't offer the scale or the supposed sophistication of a show like those of Cirque de Soleil (and doesn't have their budget) but it uses a theatrical setting to create a more direct and visceral experience that displays more than thirty quite different theatre skills from international acts that come from as far ranging as Cuba and the Czech Republic, Argentina and Bulgaria, France and Mongolia as well as home-grown talent.
There is a permanent setting with an industrial look that centres on a perforated sphere, in which a motorcycle act will circle, all bathed in purple light and shrouded in mist. Before it clears, the team that form the Timbuktu Tumblers take up their place to start an opening sequence that will introduce the company.
These African acrobats are a team that makes a major contribution to the show, providing continuity and even helping set equipment for some of the other acts as well as being featured in sequences creating human pyramids and towers, springing and diving through hoops in multiple configurations, timing gambols and body bounces between the swings of a skipping rope or limbo dancing tight to a flaming pole.
Their energy helps drive the show and, like all the acts, theirs demands precision and courts risk.
The bikers, earlier mentioned, are the Lucius Team, a star act that enters the "Globe of Terror", two riders roaring around inside it as their machines cut across each other's trajectory at breakneck speed, then in their second appearance add two more: four bikes tightly circling in constantly changing direction while sharing the compact globe with one of the show's exotic dancers standing in their midst.
There are aerialists suspended from hanging loops, lisse work on silk ribands, hand balancing acts of different kinds, including Zula who does his at the top of a tower of chairs. Ramona and Matti from Finland are a duo who combine strength with perfect poise in handstands that are supported on surprising parts of each other's bodies with both power and grace.
Another hand balancer is Odka, revealed first coiled up inside a bottle; she emerges only to cap her display of balance with her skills as an archer. At first, though positioned differently, she shoots relatively as normal before firing, hand-supported, with both bow and arrow held with her toes.
There is striking springboard work from the bare-chested, feather-helmeted Tropicana Troupe, from Cuba. Pairs jumping down on one end of the springboard propel their colleagues into the air in soaring somersaults—one so demandingly dangerous it has to be performed with a safety-line.
Luciano Gabriele from Argentina, accompanied by Germaine, start their act as drummers then produce pairs of bolas, metal balls on long chains, which they sweep, rotating in all directions to strike out rhythms on the ground that then become part of a foot-stamped zapateado, whirling so close that hair falling in front of Lucino's eyes flies upwards with each swing.
Of course there is a clown: that's Tweedy from Scotland. He is a comic whose dexterity is amazing, equally at home on the slack rope, taking pratfalls, juggling or hat-flipping. For his speciality, helped by two members of the audience, he turns a tandem, which has already been ridden in several dismembered configurations, into a tall monocycle, mounted on which he juggles a few knives.
Though most of the acts present familiar traditional skills, from Czech Toni's knife throwing by Toni (pretty scary) to the foot juggling of cubes and tubes by French Germaine, for everyone there will be there are elements that are new and they are given a lively freshness. A non-stop score that's loud, rhythmic and repetitive is there to build up excitement, costumes to add some colour and mostly admirably restrained and dramatic lighting that all add atmosphere to add up to two hours of almost constant action of which you don't want to miss a moment.
Reviewer: Howard Loxton