Cirque: The Greatest Show

Entertainers
G Live
–

Listing details and ticket info...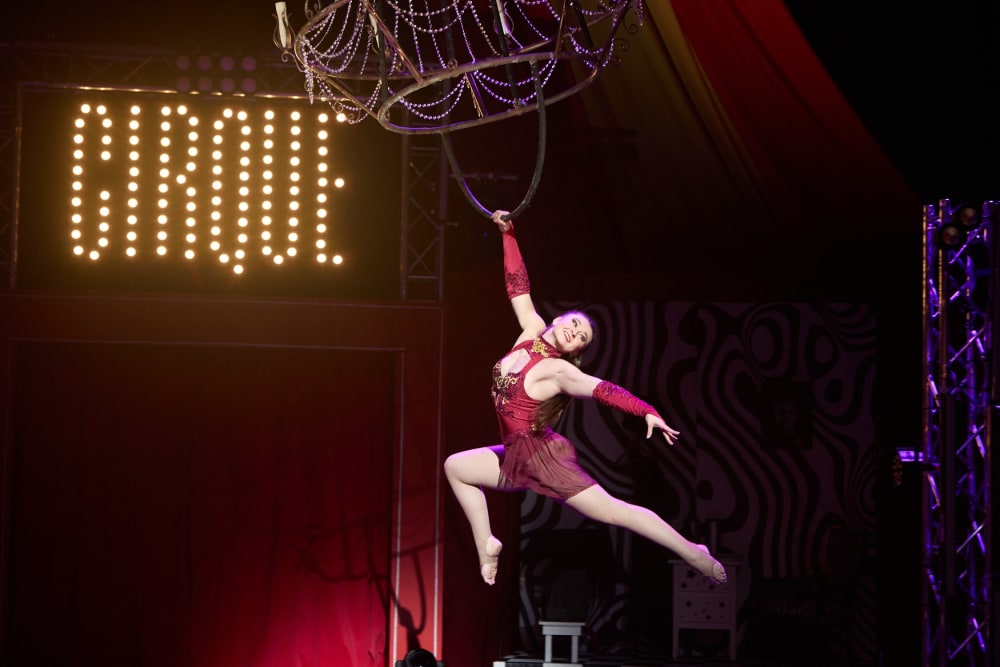 If you throw musical theatre, sequins, acrobatics and clowning what do you get?
Sadly, a chaotic mess! Billed as a show taking "you into a world where the very best of musical theatre meets jaw-dropping circus spectacular", Cirque: The Greatest Show doesn't deliver.
The concept is great, and there is plenty of raw talent on stage, but this is far from a cohesive performance. Instead, it felt like watching the showcase at the end of a rehearsal and development week—a few gems but plenty of murk still to be washed away. There are also no programmes, and no information on the web site to either credit the talented performers or critique the production team.
A mime artist clown is living his world in black and white, but manages to win a competition for a TV and suddenly his life is brimming with Technicolor as the Cirque troupe comes to life.
The show lurches from one number to the next, the song list full of power ballads, but even these can zap the energy from the room performed back to back. It's also quite a stretch to advertise this as musical theatre: largely these are pop songs, which may have been in a jukebox musical, but this is not the source of their fame. Luckily, the three strong vocalists work hard to win us over, with the female artist particularly mesmerising with excellent stage presence.
Despite being the obvious highlight, the circus acts are thin on the ground before the interval. There is a little too much of the miming clown, but far too little of the acrobats. There's too little time spent on each act, allowing a hint of the aerialists' ability, but with no climax, it's all a bit underwhelming. Luckily, post-interval, this changes and the energy in the room picks up. The highlights are the fire artist, a Cyr Wheel act (think man inside giant hoop performing acrobatics whilst it spins) and a particularly deft bit of aerial performance on a chandelier.
Unlike Cirque du Soleil's annual visits to the Royal Albert Hall, Cirque is making do with traditional theatre spaces. These are specially limiting with little room overhead and not a huge playing area onstage once someone starts tumbling! Despite this, when the acts are given time to flourish, they overcome the restrictions and still mesmerise.
There's a lot of public appetite—the show is touring all around the UK with lots of sold-out performances, including last night at G Live. The marketing team is clearly on fire, the team of talented performers work hard onstage, but the creative production team needs a serious shake up.
Cirque: The Greatest Show is underwhelming, but not unenjoyable. Hopefully, they will fine-tune the concept and deliver an even greater show in the future.
Reviewer: Louise Lewis