Le Cirque Invisible
Jean-Baptiste Thierrée and Victoria Chaplin
Queen Elizabeth Hall
(2009)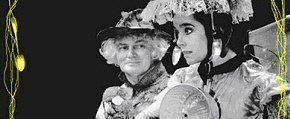 It was in 1971 that Jean-Baptiste Thierrée and his young wife Victoria Chaplin presented their first circus together. That was an old-style big-top affair in Avignon but, while retaining their considerable traditional circus skills, they began to evolve the poetic and slyly humorous routines that became first Le Cirque Imaginaire and then, in 1990, Le Cirque Invisible. The name came from an occasion when arriving for a date in north Italy they found that due to a mix up over the booking they found an empty theatre and no audience. Jean-Baptiste then pinned up a sign announcing 'The Invisible Circus will play to the Invisible Audience.'
The Thierrée influence can be seen in many modern non-animal circuses, including Le Cirque Soleil, but they could hardly be further in scale from that company. They have a much more intimate appeal that comes as much from their personalities as from their undoubted performance skills: he as an actor in theatre and cinema and she studied dance and music as well as acting in film for her father Charles Chaplin. They also still use animals, but not as trained performers. Their rabbits, doves and ducks are simply being themselves.
Theirée shows used to include their children, but James and Aurelia have developed their own careers as performers and Le Cirque Invisible is just Victoria and Jean-Baptiste with technical support from off-stage assistants. They rarely appear together in an item but alternately perform their own material.
Le Cirque has not been seen in Britain for more than a decade so, though much, perhaps most, of that material has long been part of the programme, old enthusiasts with long memories will relish an opportunity to watch its engrossing whimsicality and new audiences will discover a gentle humour that will win them over, though (especially in a venue as large as this) the subtleties and gentle pace may not suit the very young used to rapid action of video games: I noticed several bored and slightly fractious tots in the first night audience, though in a more intimate venue it may have held them.
At past seventy Jean-Baptiste is now a grandpa figure with wild white locks. He has a succession of themed suitcases for bringing on his props and each with a gentle joke of its own. He sends up his own juggling and his sleight of hand but there are still plenty of times when you really wonder how it is done. His costumes alone, with transforming masks and hairpieces, are a comic speciality. In one routine, in a zany costume that recalls both Louis XIV baroque and our nineteenth-century clown Joe Grimaldi, he 'sings' a multi-voiced scene from an opera with faces singing on his kneecaps, chest and back all perfectly synchronized with the voices and there is a delightful moment when blowing bubbles he tries to catch them and store them in a box and finds one of them is solid, then, blowing more, appears to play a tune upon them with a hammer.
Victoria, still strikingly beautiful and graceful, though even she can only be a couple of years off sixty, is still a formidable tight-rope performer and unicyclist and can tuck herself into a cardboard box or suitcase as tiny as her children used to do when little and lowers herself into a plant pot until she entirely disappears. She offers a whole series of beguiling transformations turning costumes and cloaks into a series of animal images from horses and bulls to giant fish, dragons and ostriches, conjures weird shapes from parasols and fans and there is a delightful number when, clad in a silver suit covered with glasses and kitchen utensils, she plays a tune on them.
At one point Victoria joins her husband to be 'sawn' in pieces and at the end of the first half, when she is magician's assistant, they are joined by all their animal friends.
The final item is a signature medley of bicycle related items but if there is an enthusiastic audience and applause continues, there is a whole range of new surprises in an extended curtain call with ever more lavish costumes! There are moments when things become a mite repetitive, somewhat too much a variation on the same idea but Jean-Baptiste's self-deprecation and the gentle charm of the whole show kept me won over. I do hope it will not be so long before they are back here again.
Until 23rd August 2009
Reviewer: Howard Loxton