Citizen Erased
Sarah Youssef
The Silver Lining Theatre Company
Etcetera Theatre
(2010)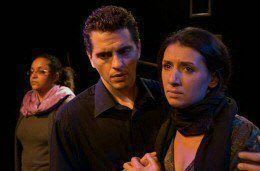 Egyptian born playwright Youssef has taken the difficult subject of an 'honour' killing and in a short play, lasting less than an hour, sets out how such things can happen. It is not just in Muslim families that these things occur and, though the background may suggest a Muslim family, she significantly does not directly identify it as such, though the play is actually based on the true story of a Kurdish immigrant family in Britain.
In a series of brief scenes she shows us the actual killing, a drugged young woman garrotted by two men, their faces masked by stretched stockings, the victim being greeted by another in an afterlife and then traces the events that brought the poor girl to her death, intercut with discussion with the other murdered woman, who is in fact the Saudi Arabian Princess Misha'al executed under Sharia law in 1977.
This is the story of Anooshe, a girl who wanted to be an art historian, who is pulled out of school to marry a man chosen by her parents. After three years she runs back to her family in the middle of the night. She has failed to conceive, a gynaecologist has said that is nothing to do with her and that she should suggest her husband gets checked out. He responds by beating her up. She wants out and soon her husband decides to divorce her but that is no end to her problems.
At her brother's circumcision party she is seen talking to a stranger. Her uncle is scandalised; she will bring shame on them. She goes on seeing a young man secretly; the family find out about it..
This is not a play that presents an argument for or against arranged marriages, the concepts of family honour or marital duties, and it certainly does not offer any attempt to understand the minds of those who believe in such savage retribution for those who do not conform to certain codes of behaviour, though it does show the effects of the ostracism that breaking taboos can bring, even to the extent of loss of livelihood. In less than an hour it attempts to turn a news story into something about real people but it can do little more. It does not help us to get inside their minds.
What it does is show us, especially in Lara Doree's performance as the victim, the pain and sheer terror of the individual, the incomprehension that people she loves and who love her can do this. We see the pressure put upon a loving but bewildered father (Sanjay Sutar) by his relations, a mother (Melina Theocharidou, who also doubles as the princess) who understands her from her own experience but counsels conformity, a rigidly conformist grandmother (Mouna Albakry) and the outraged uncle (Frederico Zanni, who becomes the supportive and charismatic new boyfriend).
Director Mara Lockowandt keeps her actors on stage throughout, standing behind a 'wall' of suspended picture frames from where they sometimes voice extra characters such as policemen and women. There are a few moments of darkness after the opening murder, needed to allow for costume adjustment but which give time for the enormity of what has happened to sink in; otherwise she moves things on with great rapidity, slackening the pace only when needed to concentrate on exchanges between Anooshe and her parents or gentler moments with her lover.
Youssef clearly feels this is a story that needs to be told but it is one with which we are already only too familiar. We need to go beyond this now to find a way to stop such murders continuing to happen in our society, where law can be brought to bear, and to change the perceptions of those who believe this is the only way in which they can regain their 'honour.'
Ends 12th August 2010
Reviewer: Howard Loxton