CITY
John McCarthy
John McCarthy / Everyman Theatre
Fringe Player
–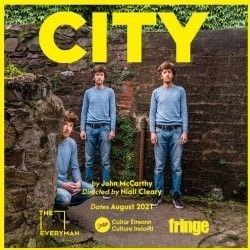 What makes a CITY? Writer and performer John McCarthy explores this question in striking, lyrical monologues that capture the audience with enthralling stories.
He embodies the CITY whose streets and "rooms that you will never see into" have walls that have chronicled the lives of the many people who have lived there.
McCarthy is a consummate storyteller who gives a masterclass on the art. He reveals snippets of stories, "that need to be heard" with an engaging charm that effortlessly journeys across time periods superbly linked by Fiona Sheil's dramatic sound design.
We learn about the fearless frogman Pat Boydon who in 1874 jumped off a Cunard liner as a stunt to end up in the small village of Baltimore in West Cork and his many adventures.
MacCarthy introduces the audience to an early sound recording machine that in 1884 was used to chronicle Orst Auger's family. He died during a programme in Lithuania but his daughter took these sound sheets to Cork. Yet another reminder of a lost history.
There is an Irish tale of mortal combat between two friends that doesn't end well and a modern "system on a chip" that decides what we do as we battle between 4 and 5G.
The progress of a mother expressing breast milk for her sick baby, who is intensive care at a children's heart centre, is sincerely and sensitively told.
But we are not to worry as the City will, "try and look after you."
This is a true little gem of a production.
Reviewer: Robin Strapp