Clam and Honey/Baby
Deborah Levy
PapaC Productions
The White Bear, Kennington
(2010)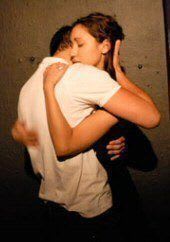 Presenting a double bill of two short Deborah Levy plays, not produced for over twenty years, PapaC Productions gives a terrific exploration of gender, relationships, and identities under threat.
In the first piece, Clam, a couple (Matt Hollihan and Emma West) portray three relationships: Harry and Alice, a pair of underwater picnickers, Vladimir Lenin and his wife Nadya and a sinister interrogator figure and his female 'patient'. In the surreal world of the seaside setting, we look from the distance of the shore at not only the past of a disintegrated relationship, but the fractured Europe of the 1980's. While Clam strongly claims its 80's roots in its discussion of the threat of communism, director Nadia Papachronopoulou aims to draw distinct parallels with today's shadow of terrorism. This is something for the audience to reflect on later, as it doesn't acutely come across in production and would perhaps have benefited from being drawn out in the design. However, as it is, Clam is a dark and delightful foray into the author's reflections on men and women nearly 30 years ago.
With Honey/Baby we see Levy's vision has moved on, and here is the real gem of the evening. Written in 2000, the author this time presents two couples, one young, one older, playing out relationship norms and trying to negotiate new ones. Only they all ultimately 'want you to be someone else' and the lives they live with their partners are lies.
Dreaming of sex and aeroplanes, the young man does not want children, yet his girlfriend does. Shouting for attention and demanding his right to be heard because he comes from 'Middle England' (and therefore pertinently is a crucial voice of the voter) is Ernest the stereotypical English husband. Beside him (in the stand out performance of the evening by Chloe Thorpe) is his long suffering but ultimately hysterical wife Mary who, with her skirt interminably caught in her knickers, struggles desperately for recognition.
Weaving in and out of it all is the foreboding character of the sinister, many voiced, torturing CO who subjects each character to interrogation, reading their minds, memories and desires. As he rips back the layers of pretence and performance from each character, they convulse while being stripped down to the truth.
According to the press release, both of Levy's plays are uncompromising, visceral pieces that encourage audience interpretation and force us to question our views on women, relationships and violence. But what is most frightening in the author's final presentation is the blank mind of Mary the Middle England Housewife. It would be fantastic to see Levy's view today of this tragic figure, and what she has become in the intervening years.
With beautifully paced direction and an assured cast, Clam & Honey/Baby achieve a fascinating night of intimate and thought provoking theatre. Intrigued viewers will want to see it again for the complexity of the playwright's surreal and yet achingly truthful vision, as well as the swift and fluid crafting of the performance. Don't miss this enticing yet thorny rose of an evening.
Reviewer: Sacha Voit