Clear White Light
Paul Sirett
Live Theatre
Live Theatre Newcastle
–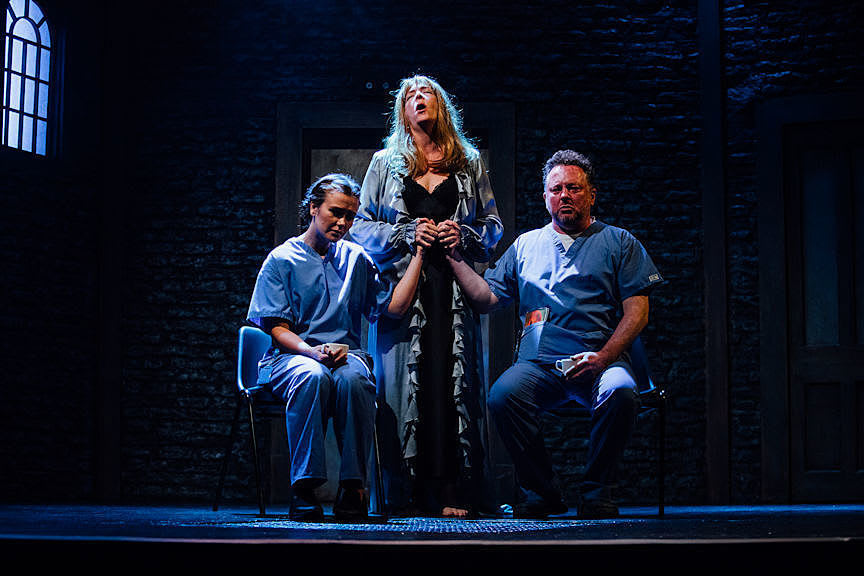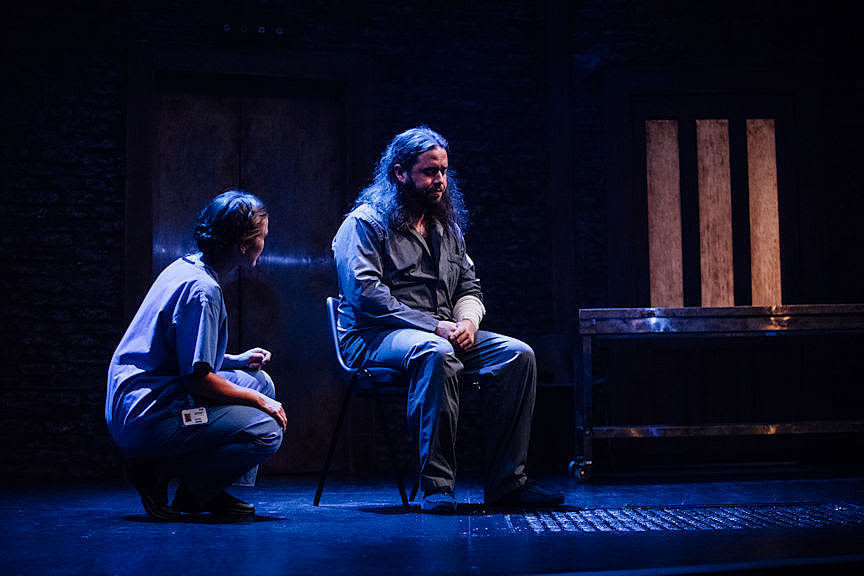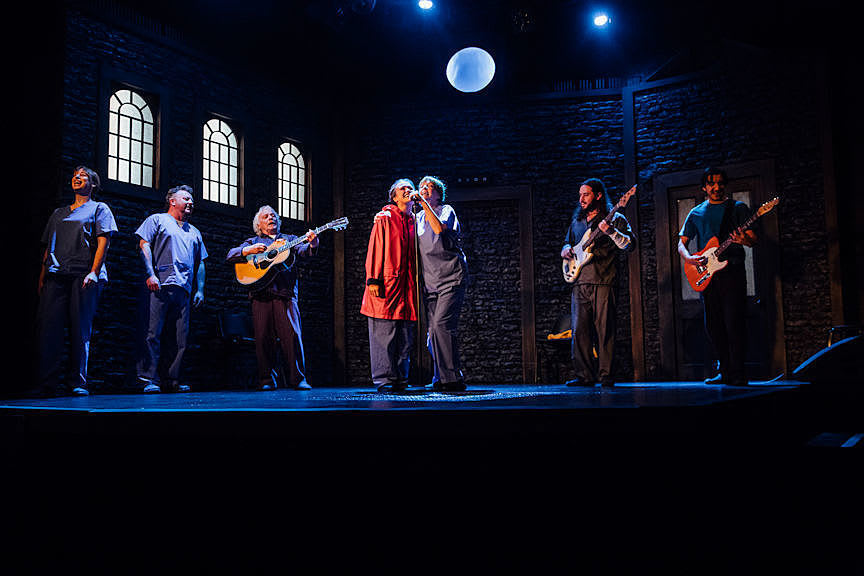 In one form or another, the Tyneside band Lindisfarne has been around for half a century and, in this neck of the woods at least, their reputation is still intact. Witness their sold-out annual Christmas concerts at City Hall, Newcastle. Witness the return of this play to Live Theatre, looking likely to repeat its first sell-out run not long back. Witness the number of ancillary events, talks, concerts etc built round the production. And witness the different hybrids of the band over the years—I swear I once counted three different Lindisfarnes knocking about, or was that an illusion?
Hang on though—Lindisfarne is a band and I am a theatre critic. What gives? Well, the band's legendary singer-songwriter Alan Hull died in 1995 leaving a legacy of brilliant songs whose stature has only grown over the years. From the early regionally anthemic "Fog on The Tyne" (1971) through the likes of "Meet Me On the Corner" and "Hey Mr Dream Seller", Hull's tunes and lyrics reach down deep into us. His reputation was enhanced recently when his son-in-law Dave Hull Denholm recorded a whole clutch of previously undocumented Alan Hull work.
Two related facts influenced the creation of this play: Hull's love of the Gothic and especially the work of the writer Edgar Allen Poe and his (Hull's not Poe's) time spent as a nurse in St. Nicholas Mental Hospital in Gosforth, Newcastle.
Writer Paul Sirett welds these together to create his play, a story of a student mental nurse, Alison (Elizabeth Carter), and her first night shift on the hospital's all-male ward, a night which turns into a haunted and psychological nightmare, part The Cabinet of Dr Caligari, part Premature Burial, part The Fall of the House of Usher.
All eight cast members, with the exception of percussionist Ray Laidlaw (the only original member of Lindisfarne involved), are used as actors and band members (not actually Lindisfarne themselves) belting out Hull's fantastic tunes at regular intervals.
The audience was ecstatic, a standing ovation at the end and I can spot various reasons why. Joe Douglas's direction is spooky, atmospheric, eye-catching and pacy on Neil Warmington's eye-catching design, the gloomy hospital interior like some modern Hades through which sliding jagged doors at times let shafts of light (or other times a ghost). The music / action transitions are seamless and the musicianship top-notch.Then there's Charlie Hardwick's singing. Here's an actor who made her mark on her native Tyneside many years ago before going off for a long stint in Emmerdale.
Soap opera stardom can prove a poisoned chalice, but Hardwick eschewed looking for metropolitan fame to return to her roots and is now attracting a whole new generation of admirers. What I didn't appreciate was her power as a singer. She is a rock diva no less and the Hull songs pulsate with power and emotion when she lends them her vocals.
So what on earth's not to like about the whole experience? Well, it's a funny old play for a start and, outside of Joe Caffrey's Rod (the mainstay nurse with his many words of the wise about patients and staff surviving such institutions), characterisation is pretty slim. Even Rod weakens somewhat in the second half, blubbering and sobbing his way through the play after the death of his mysterious sister Maddie (Hardwick), who's only seen in the play as a singing spectre—which is not that common a sight in modern theatre.
Billy Mitchell (an early Lindisfarne member), Phil Adéle and Dale Jewitt play a trio of inmates with various mental problems and Alice Blundell is the female nurse. They are a bit peripheral and what characterisation we do get of the tyro nurse Alison tends to come from her expositions at both ends of the play—the second one a bit plot-convenient.
You wouldn't really call it a musical and, despite the Alan Hull connections, the words and music are never quite logical bedfellows ("Lady Eleanor" best captures the Poe influence). I found myself wondering how the play would stand up minus its musical crutch and I'm not sure it would do too well, its different component parts never quite gelling. The words SAVE THE NHS are flashed up at the finale and whole cast sing Hull's stirring activist song "Bring Down the Government", a great piece of theatrical agitprop which produces the expected response (and may soon prove prophetic), but, despite some references to the crumbling health service, again it is of only limited relevance to what we've just witnessed on stage.
Why not officially bill this vibrant show as a theatrical and musical tribute to the work of Alan Hull? Which I think is what it is.
Reviewer: Peter Mortimer