Cleaving the Sod
Arthur McKenzie
Granda's Spade Theatre Co
The Exchange, North Shields
–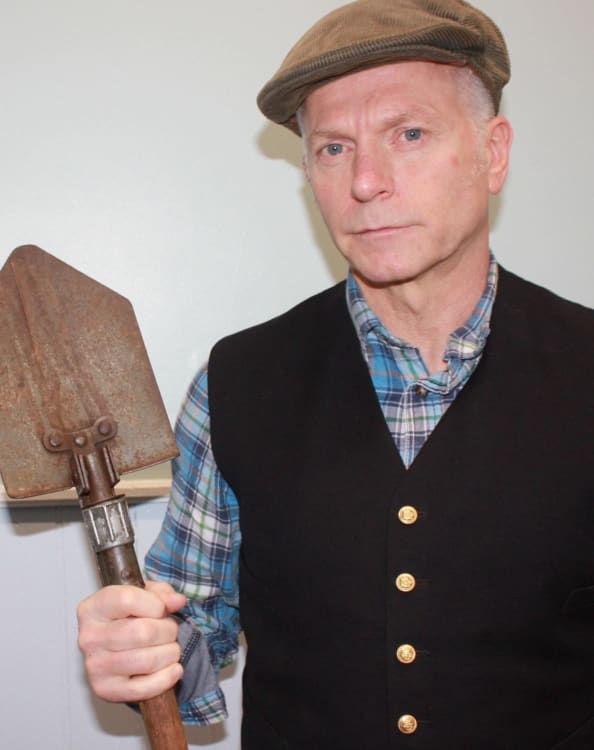 Three veteran campaigners of the North East theatre scene combine in this new one-man play of grave humour. It's written by ex-policeman Arthur McKenzie, (eschewing the constabulary on this occasion) directed by Jim Fowler and performed by Michael McNally. As suggested by the company's title, the trio came together specifically to produce the play, but from such humble beginning—who knows?
McNally plays the wonderfully named grave digger Septimus Bardot (and let's face it, with a name like that, working in a call centre seems a non-option). Seppy's duties in the Tyneside cemetery which faces closure include looking after the plot of his own grandfather, a man he views with great affection. His conversation with the grandad (one-sided admittedly) is the play's main device, but then it was a device good enough for Shakespeare, so why not?
Seppy's opening line (after he does a few warm-up exercises to prepare him for digging) is, "we all suffer the same terminal disease. Life" and he further cheers us up with his parting shot as he waves his gravedigger's shovel in the air: "well, see you all soon."
Actually, the shovel is an interesting prop. One quick turn and it becomes a deadly extended dagger, a multi-purpose tool designed for First World War soldiers, of whom apparently the author's granddad was one.
The one-hour play paints quite an extended picture of the gravedigger's life, his wife Ruth's cataract operation, their tragic four-month-old cot death of their first child, the fact he resisted at first the job of gravedigger, tales of bullying, his occasional sense of guilt, plus anecdotes of the grandfather himself and some interesting facts about the profession.
All this is carried off by Michael McNally with a warm affection and humour and he quickly endears himself to his audience, despite the occasional sombre subject matter. The set is a simple headstone and Jim Fowler directs with good pacing and just enough animation at North Shields' revitalised venue The Exchange, which attracted a decent audience. It plays three nights.
Among Mckenzie's influence is the late Tyneside playwright Tom Hadaway, who gave him the early advice, "write about what you know," advice worth remembering, but not always the full story.
Writers should also be encouraged to write about what they don't know, but can imagine. This reduces the risk of ploughing too narrow a furrow or restricting your imagination. I sense that virtually everything we hear in the play is biographical (or autobiographical) and given to us as it is/was. This can make it real but a little anecdotal. At times I want Mackenzie to build up, even invent his character more. We may get to see a darker side too. so be it. The play, as they always say, is the thing.
Reviewer: Peter Mortimer