Clementine's Seasonal Spectacular
Mark Mander
Mark Mander Productions
Rosemary Branch Theatre
–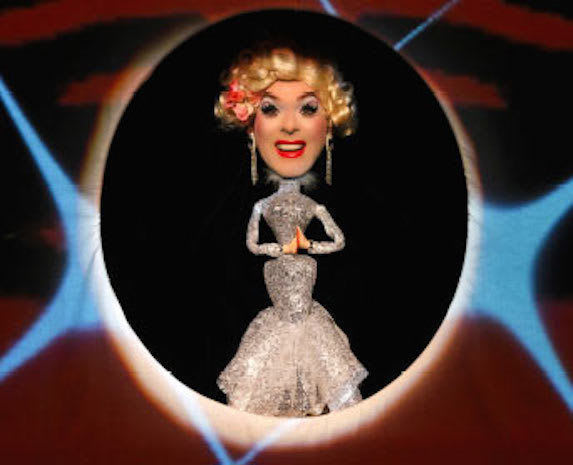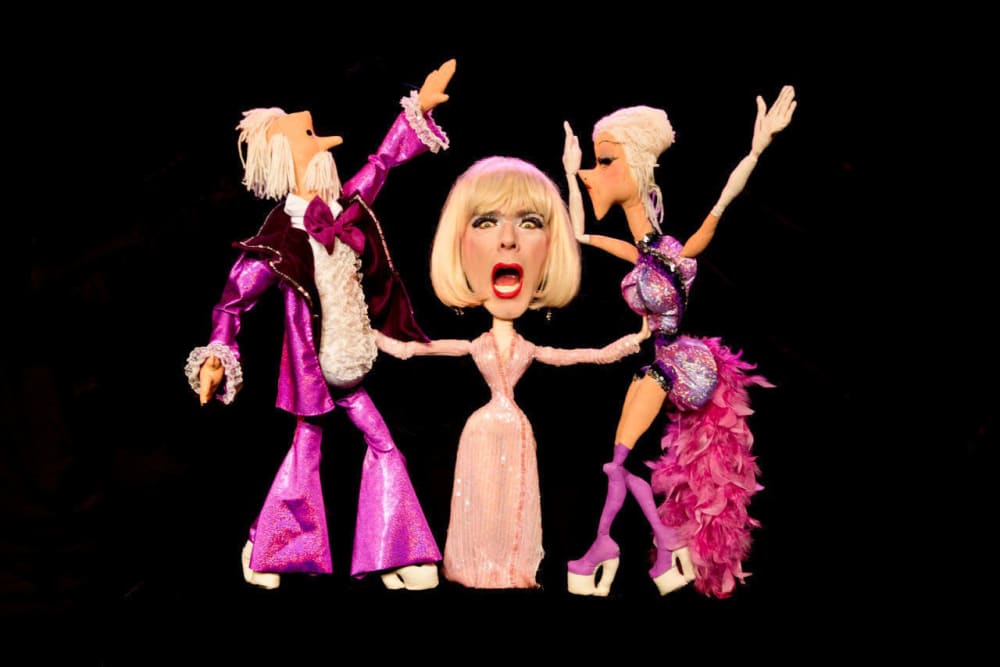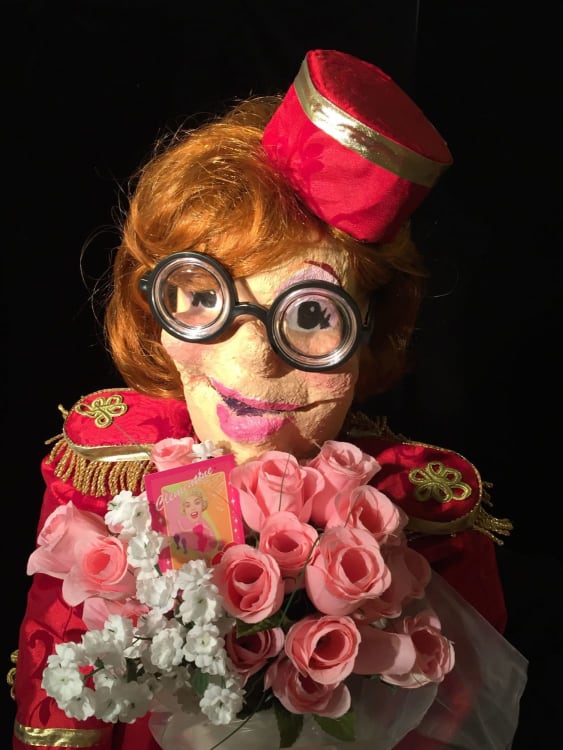 The Rosemary Branch, in earlier times a music hall, is a theatre with a very eclectic programme from opera to puppetry and pantomime, classic drama to new experimental writing, but this Spectacular widens its range even further as it brings some of those genres together.
Clementine, who bills herself as the Living Fashion Doll, may be only 15 inches tall but this lady is a diva. "She," in her glamorous gowns and careful maquillage has the face of puppeteer Mark Mander. He is her creator and the writer, director and designer of the show.
It is introduced by a lady called Yvette, a rather larger puppet brought to life by Stewart W Fraser, an usherette in scarlet livery. If she makes you think of going to the pictures in the old days that's absolutely right; she has been around forever!
Clementine's Spectacular is framed as cinema and mixes up video and live action that sometimes seems on screen and sometimes bursts out into the audience.
Having met the star, a variety programme is presented that offers such oddities as a performing rooster with Elvis hips, bluebottle Betty Barfly and an aging and incompetent magician still stuck in 1970s disco as well as Clementine's own renditions that peak with her singing of Noël Coward's "Mad About the Boy" while real live beefcake (Jack Jefferson) works out as the object of her passion. Then, from a ballet of ostrich feathers from Danny La Rue's wardrobe, Clementine emerges to ring down the first half.
The variety show is intercut film artist introductions and "reality" reportage: backstage interviews, the Rosie's lovely artistic directors Cecilia and Cleo in a telephone chat with Clementine or her calling her boyfriend, a closeted gay puppet hunk who's outside the Admiral Duncan.
Having a rather basic puppet body doesn't stop Clementine from being a great performer. Mark Mander could probably do a stunning full-size drag act but this puppet persona gives a different dimension that sends up what is already a kind of send-up.
The puppetry, in which Mander and Fraser are joined by Lesa Gillespie and Clare Rebekah Pointing), is performed with wit as well as skill, the human-size rooster roving into the audience particularly effective, but the film is a different matter and there is too much of it.
After the interval, the genre changes. Now a more conventional puppet theatre proscenium frames the action as, taking on a seasonal spirit. It presents a panto: Snow White, complete with song sheet. Shadow puppetry and a flurry of hand glove furry forest creatures are added to the mix now. (Warning: spoiler coming, jump three paragraphs.)
The Snow White story is compacted and doesn't go the way you would expect and serves only as an introduction to an 007 Special Agent parody. With Clementine made a Special Agent given Licence to Kill, she is equipped with Q's new invention: a clutch bag that can turn into land or sea transport, an exploding beaver and other wonders.
Coldfinger is the enemy, complete with long-furred white pussy, along with the Evil Queen, a blue-silk-clad villain with the voice of Margaret Thatcher (it is Steve Nallon, her voice on Spitting Image—he provides all the panto voices except for Clemmie's). She's already had six facelifts and now wants lots of shots of Polltox to hide her threatening wrinkles. With a dig at David Cameron and other allusions, there's a topical edge too.
By submarine and ski, Clementine finds the villain's alpine hideaway and goes on to celebrate victory with a rousing rendering of "Ding Dong the Witch is Dead". This is all great fun. The larger puppets have rubber mouths to mime their songs and speaking. Their coarse-textured faces contrast with Clementine's smoothness, careful make-up making it appear even more vibrant.
In the second act, David Carter's animations and CGI backgrounds are used in balance with the other elements and work well together. It makes you forget the first act fudges and makes the whole a happy evening.
Reviewer: Howard Loxton