Clockwork Canaries
Christopher William Hill
Theatre Royal Plymouth
The Drum, Theatre Royal Plymouth
–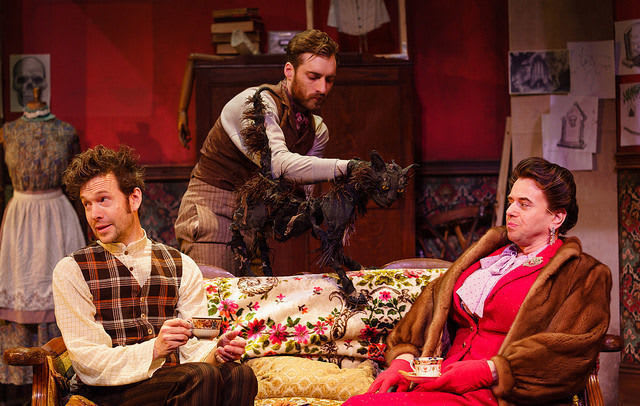 Christopher William Hill's bloodthirsty comedy Clockwork Canaries is all rather odd and frustratingly unsatisfactory. Think a Grand Guignol and Eastern European folklore hybrid written by Franz Kafka for children, directed by Tarantino by way of Hammer House of Horror, and with a smattering of panto Dame and comedy thrown in. Sounds bizarre? Definitely.
Schwartzgarten's department of police is focused on the eccentric inventor Maximillian Dressler (Dominic Marsh), his murderous alarm clock and the mystery of his long-dead wife. Young detective Franz (Jeremy Ang Jones) employs myriad delivery boy disguises to infiltrate the family home and cosy up to daughter of the house Titiania (Charlie Cameron) whose morbid fascination stretches to sketching the ultimate in mausoleums and hero-worship of undertakers.
Enter a flamboyant, thrice-widowed opera singer (Christopher Staines) and a mangy, menacing moggy, both with a penchant for canaries, and all the elements of something quite weirdly wonderful are in place. But for all the fizzle, the lasting impression is, disappointingly, damp squib.
The over-indulgence in Staines's pantomimic portrayal of the incongruous man-eater Mrs Stein-Hoffelmann and overlong first act is to the detriment of the building tension as the incoming Count Frederick Sebastian and Dressler commence experiments in switching animal and human behaviours, and the body count rises.
There are corpses in cupboards, something nasty lurking behind the curtain and a fast-filling pet cemetery out back. The goulash is an acquired—by the cat—taste, and there are murderous money-making plans a-plenty, plot twists, cross-dressing, piccolos and dolls with human hair.
War Horse veteran Richard Booth is beautifully adept with Michael Fowkes's fab bedraggled cat and manic dog puppets while Natasha Jenkins's set exudes a certain homely charm with its heaps of 'stuff' jammed in corners, old-fashioned meat safes, Raeburn and mother mannequin.
Cameron channels her inner weird child convincingly, managing daddy's girl, burgeoning romantic and reluctant step-daughter beautifully; Marsh's benign brooding belies Dressler's steely determination; Ang Jones is a sweet lovelorn Franz while an inexhaustible Staines is larger than life as everyone else, master of the quick-change and the grotesque.
Definitely all the elements but attention to edit and pace are desperately needed.
Reviewer: Karen Bussell