Closer
Patrick Marber
Royal and Derngate Production
Royal Theatre, Northampton
(2007)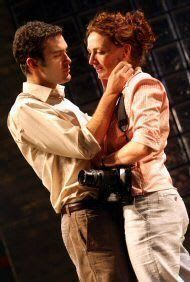 Currently playing at the Northampton Royal is Tamara Harveys' version of Patrick Marber's explosive Closer. Never are the bombshells of the modern romance dropped so beautifully than in this dirty, poetic piece.
There are times when Harvey's production really hits the dramatic nail on the head, knocking the stuffing out of any notion that one may have of love being simple walks in the park. This may have been achieved by the rhythm in which the actors spoke the lines, fast, brash, overlapping. It may be the way in which her direction brought tenderness to the more touching moments - the confession scene was played exquisitely.
Yet there was also something missing in the direction too. The scenes did flow with an impressive slick feel, but throughout there seemed to be something not quite clicking.
Despite the modern soundtrack to accompany the quick changes there were moments where the energy did seem to drop somewhat. Perhaps this is in part down to following a successful film, which the Theatre Closer will always have to battle with.
There were some strong performances. Jake Maskell as Dan seemed to grow into his role and by the end of the production seemed to have come full circle in his character's journey. Susie Trayling as Anna was consistent throughout, always managing to underplay everything she said, even if what she was saying caused embarrassed giggling in the audience.
The use of language in the play is also debatable. Is it dirty just for the sake of causing shock or is the beauty in the fact that it is so coarse? The Chat Room scene especially seemed to stir a few theatre heads. Whatever the reason, it is a brave decision for the Northampton Royal and Derngate to stage such a production.
The play raises questions of truth and lies, trust and betrayal. The characters toil back and forth, begging each other to be 'bigger than jealousy.' The pain and scars which each one seems to bare at some point, never more so than Abbey Ford's Alice who explains that her lover 'buries' her and makes her 'disappear.' The play, ironically entitled Closer, ends up with four characters wide apart.
Yet with all these massive themes and questions, these powerful emotions and characters, I did not leave the Theatre desperately asking questions, or empathising with the characters. Perhaps this is why this version of Closer was not wholly satisfying - it never reached the higher ground that it had so much promise to do. You have until Saturday 16th June to go and see if you can get closer to the answer of what is or what isn't missing.
"Closer" plays at the Royal and Derngate until 16th June, 2007
Reviewer: John Johnson