Clouds
Laura Crow
Time and Again Theatre Company
theSpace on the Mile
–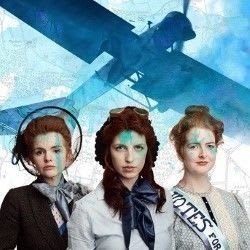 Welcome to 1913, a time of change and political turmoil where women are protesting and seeking to gain suffrage.
Time and Again Theatre Company's new play Clouds challenges the male dominance in all things and the total inequality that existed between men and women in that period, although there are still challenges today.
Centre-stage is a plane that Winifred—Freddie—Baxter (Laura Crow) is determined to fly and become the very first Englishwomen to enter an air race. But first, she needs to learn to fly and enlists the help of the male chauvinist Brook (Tim Cooper) to help her. She is determined to prove that not only will she be able to fly but will outdo Cooper.
Her brother Theodore (Anthony Morris) suffers from a stammer and is both shy and embarrassed. He is obsessed with clouds and can name them all. He does pluck up the courage to speak to Miss Lovejoy with the help of Freddie and a courtship develops.
Sylvia Lovejoy (Fiona Primrose) is committed to the suffragette cause much to the annoyance of Lady Sara Morris (Catherine Cowdrey) who disapproves of such actions and then there is the garden party to organise.
Freddie passes the pilot exam; "I can soar through the sky like a god," she proudly states. But something is wrong: Freddie appears to be unwell, so will she manage to compete in the race?
There is also a startling revelation about her mother and the family that makes her determination to succeed all the more poignant.
The cast perform with commitment, bringing an important slice of history alive, and there are humbugs for us all when we leave.
Reviewer: Robin Strapp