Club Tropicana The Musical
Michael Gyngell
Mark Goucher and Gavin Kalin present
The Lyric, Theatre Royal Plymouth
–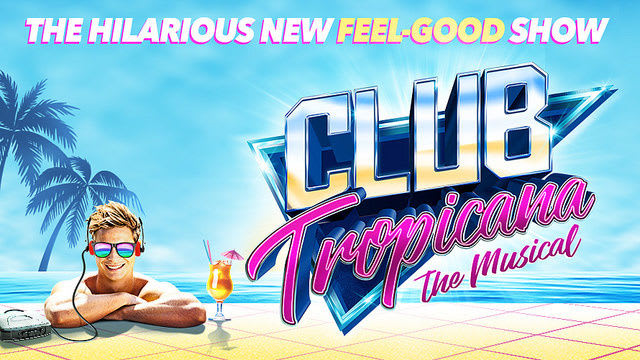 Hasta la vista to taste.
A colourful antidote to a bleak March evening, Club Tropicana revels in everything gaudy and gauche about the '80s with sun, sea, sex and Sangria centre-stage.
Failing to quite live down to expectations, there are some good laughs to be had but political correctness is absent and the reliance on camp gay boy and fat girl jokes are as cringeworthy as are the outrageously named cocktails on offer and the big hair. The '80s jukebox is there in all its—ahem—glory although with many songs perhaps picked for specific lines and only sung in fragments (phew).
When Lorraine (Karina Hind) jilts Olly (Cellen Chugg Jones) by brick-like mobile phone, she escapes, with would-be bridesmaids interfering Tracey (Rebecca Mendoza), ready to get "Physical" with anyone Andrea (Tara Verloop in fine voice) and a suitcase full of neon, shoulder pads and skin-tight jeans, to the paid-up honeymoon suite in Spain's Club Tropicana cos "Girls Just Wanna Have Fun".
The heartbroken groom is also persuaded to lick his wounds, drink much alcohol and succumb to "Temptation" in sunnier climes with his posse Drew (Rory Phelan) and Blaine (Kane Verrall)—and a new romantic blouse or two—and coincidentally rocks up at the same place.
With the hotel looking for competition success to ward off closure, a hotel inspection imminent and the mysterious accident-prone Christine (Emily Tierney) preying on the hunky hotelier Robert (Neil McDermott), the scene is set for intrigue, slapstick and lurve via the club's very own Blind Date night.
X-Factor's cheeky chappie Joe McElderry's tremendous vocals are underused as Butlins Bluecoat-esque Garry but he struts and postures with innuendo and Union Flag budgie-smugglers holding the flimsy storyline together, keeping it all very frothy and stirring up an enthusiastic audience. Also underused is Sugarbabe Amelle Berrabah as lovelorn Serena. Her acting is on point but we could have listened to that fab voice for a much greater part of the evening. A shame.
Stealing the show is actor, musician and impressionist (Spitting Image, The Imitation Game) Kate Robbins as the redoubtable Consuela whose signs and impersonations are tears of laughter-jerkingly wonderful and her rendition of "Don't It Make My Brown Eyes Blue" the highlight.
With a dynamic ensemble, Nick Winston's apposite choreography channelling all we would like to forget of the era, a superb five-piece live band and Diego Pitarch's simple vibrant set, it is all very obvious, very kitsch and very very '80s.
Reviewer: Karen Bussell