COAL
Gary Clarke
Grand Theatre, Blackpool
–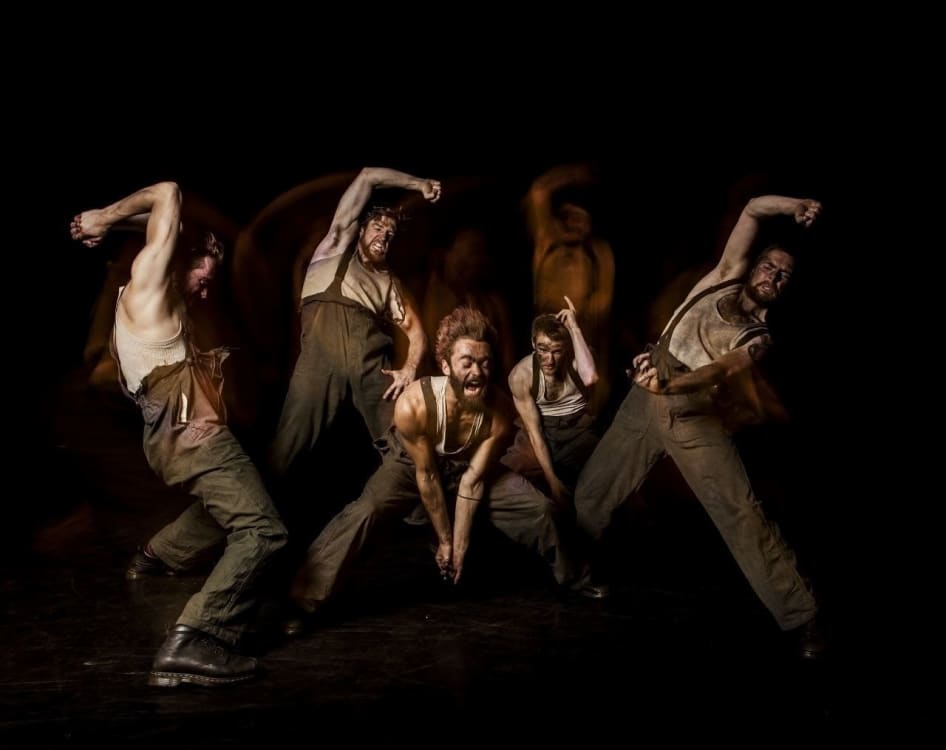 Gary Clarke has mined a rich seam of his own experience to produce this dark and sometimes almost satanic piece of physical theatre.
The dance artist and choreographer grew up in the mining village of Grimethorpe and paints a picture of community spirit, above and below ground, broken by the government's cruel contempt for the Miners' Strike of the 1980s.
Clarke reckons it is neither political nor provocative, but it can't really avoid being both as his five burly miners are brought either to cross a picket line, or throw in their boots in final submission.
That's the climax of 80 minutes of a production that may not mean to be agit-prop, but is at least pit prop.
Those five miners are, at first, backed by an equal number of members from Carlton Main Frickley Colliery Band and the opening sequence is a bit of knockabout physical fun as one wife sends her husband off for a day's work down the mine. He's joined by his mates on the way to the pit head and while individual characters emerge they gradually become consumed into a below-ground world of mechanistic and repetitious toil. It's a particularly dark and laborious act two—using unsettling industrial sounds taken from the mines—but then that would be the point.
Elsewhere, the soundscape is like turning the tuner on an old radio, picking up snatches of folk music, Beethoven, even Sam the Sham's Wooly Bully.
The latter becomes a wild dance routine at the miners' social club, and brings in four locally-recruited community cast members (Carol Asbridge, Christine Braddle, Emma Cartwright and Helen Fairhurst). Marshalled by lead dancer T C Howard, they lend an unabashed and authentic layer to the drama.
And if you're looking for a devil in the detail then few serve better purpose here than Eleanor Perry as Margaret Thatcher. Angular and imperious movement earns her heartfelt boos at the final curtain! A special irony, since Blackpool was the scene of so many of her party conference triumphs...
Reviewer: David Upton