Cock
Mike Bartlett
Elliott & Harper Productions
Ambassadors Theatre
–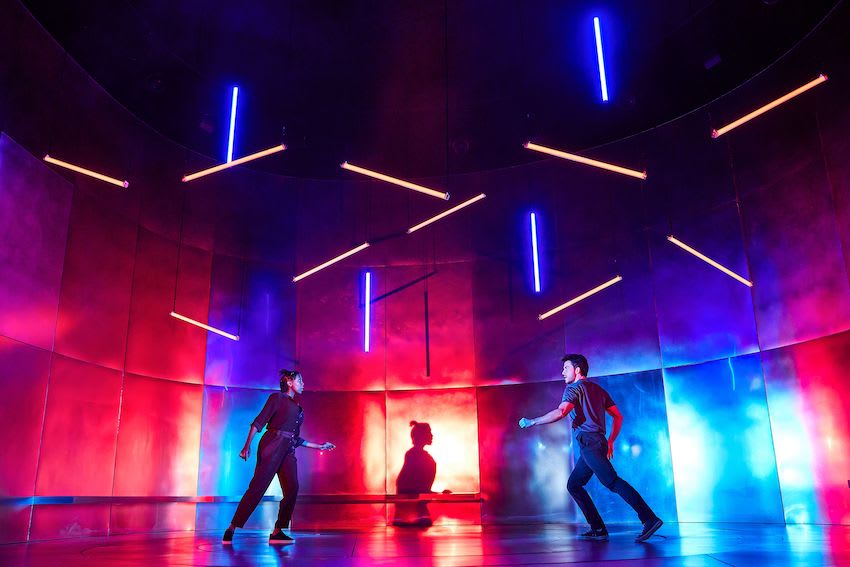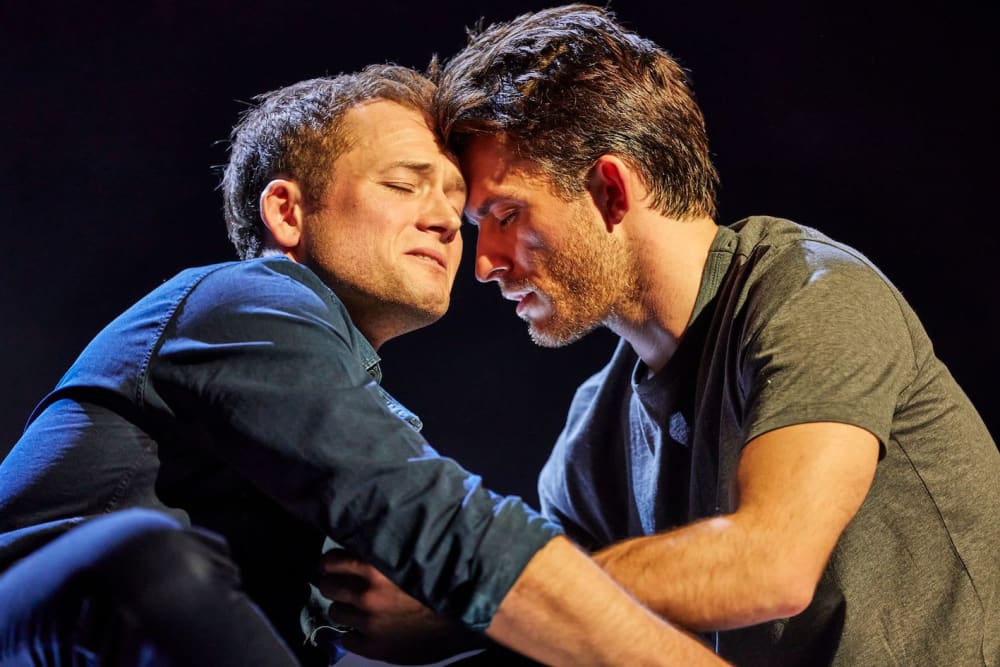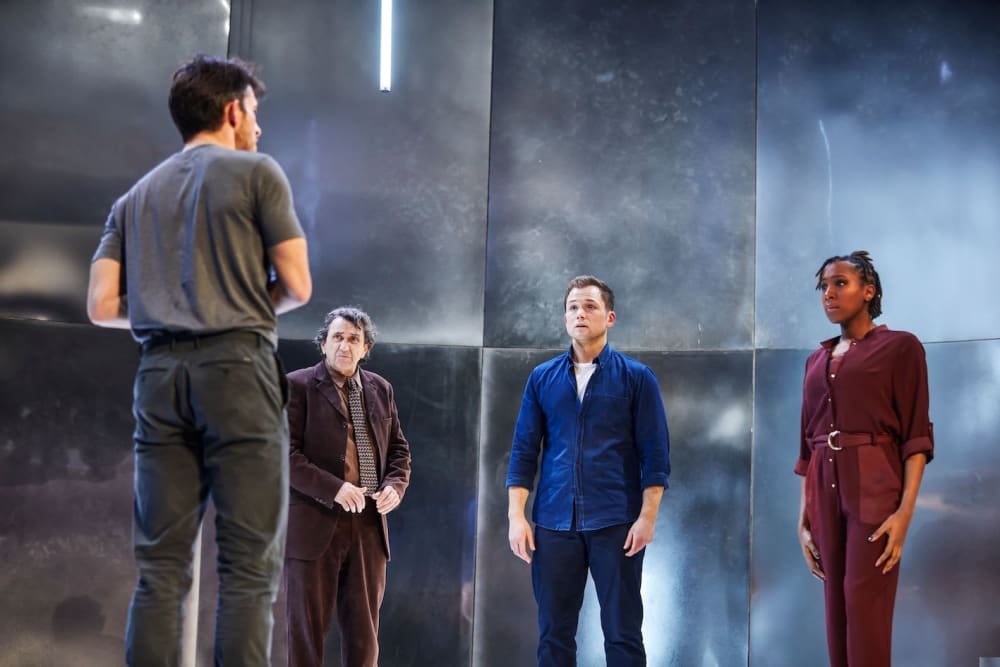 Since Mike Bartlett's Cock premièred at the Royal Court in 2009 we have become more used to concepts of fluidity in sexual preference and of a wider range of gender identity and, while these are still at the core of director Marianne Elliott's stimulating revival, the emphasis now seems to be more on the actual relationships of John, who has disrupted his seemingly settled gay partnership by having sex with a woman and finding it enjoyable.
As you might guess from the title, it is a text that is very explicit but it is presented in a stylised way with movement directed by Annie-Lunnette Deakin-Foster that sometimes verges on dance. There is no stripping off, a shrug of the shoulders may suggest disrobing and the semicircle of polished steel with its blurred reflections that forms Merle Hensel's setting suggests an enclosed arena, like the circular cockpit of the original production.
We first see Jonathan Bailey's anguished John alone at its centre, his arms twisting and writhing until an electric crackle brings a momentary blackout. He then is joined by Taron Egerton as his unnamed male partner, identified just as M, for the first of a series of bickering confrontations. M is a broker, possibly slightly older, John an assistant teacher. It seems to be M's house, that it is he who makes the decisions. He probably gives John a more busy life than he would have on his own but, in accepting his orientation and tucking himself under M's wing, what has John cut himself off from?
Because they make the same journey to work, John gets to know Jade Anouka's woman (the cast list calls her W of course) and, during a brief hiatus in his seven-year relationship with M, enabling him to claim that he wasn't then being unfaithful, John has sex with her. This heterosexual intercourse is graphically detailed but presented fully clothed and without even touching in a way that gives the scene a great erotic charge but is also delightfully funny as stage revolves take them in different directions.
M's apparent assurance disappears when faced with losing his lover while John, who can't make a decision, telling both of his lovers that he is theirs, seems again to be physically tying himself in knots to express his confusion.
A dinner party is arranged for the three of them at which John is expected to choose between M and W. There is no furniture, there are no props; it is all done with minimal miming. M invites his father too, a man who, having formerly only slowly accepted his son's sexuality, now extols the success of his son's gay pairing. Phil Daniels as F (of course) gives him a confident certainty, oblivious of illogicalities in his argument.
This is Bartlett's cock-fight in which M and John seem to get increasingly hysterical while Jade Anouka's W preserves a certain dignity against F's strange misogyny. Characters with whom one might once have had sympathy seem to become increasingly unlikeable and arguments that may have seemed challenging 13 years ago now seem superficial. We don't know these character in depth and today's ideas are more wide-ranging.
What once broke new ground for most people now seems dated. The dilemma of choosing in a society that values monogamy is one that playgoers may themselves have experienced but, like their alphabetical identifications, these characters remain ciphers. We know their jealousies, insecurities and anger but never discover them as people. It is left to the actors to make them come to life and this cast give stunning performances, embracing the expressive stylisation to make a match with the material. It is a play that seems not quite complete but it is eminently watchable.
It plays straight through: more than 100 minutes without any interval. Ushers even issue warnings to be bladder aware, which make it annoying that curtain-up was delayed on press night to let in stragglers thus adding 15 more minutes to that 100+.
Reviewer: Howard Loxton