Cock and Bull
Nic Green with Rosana Cade and Laura Bradshaw
West Yorkshire Playhouse and Live Art Bistro
Courtyard Theatre, West Yorkshire Playhouse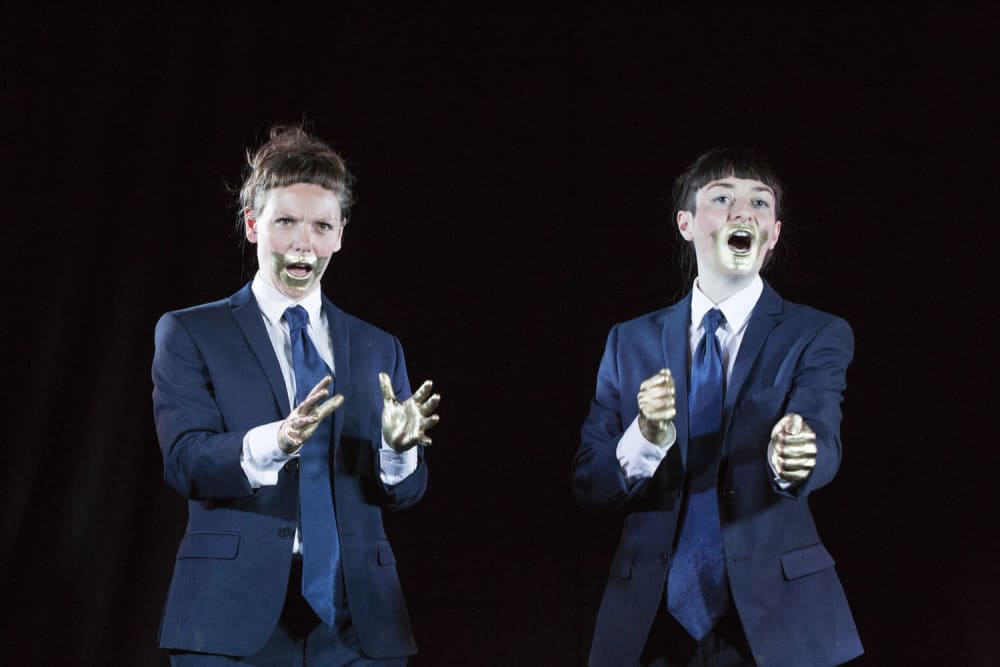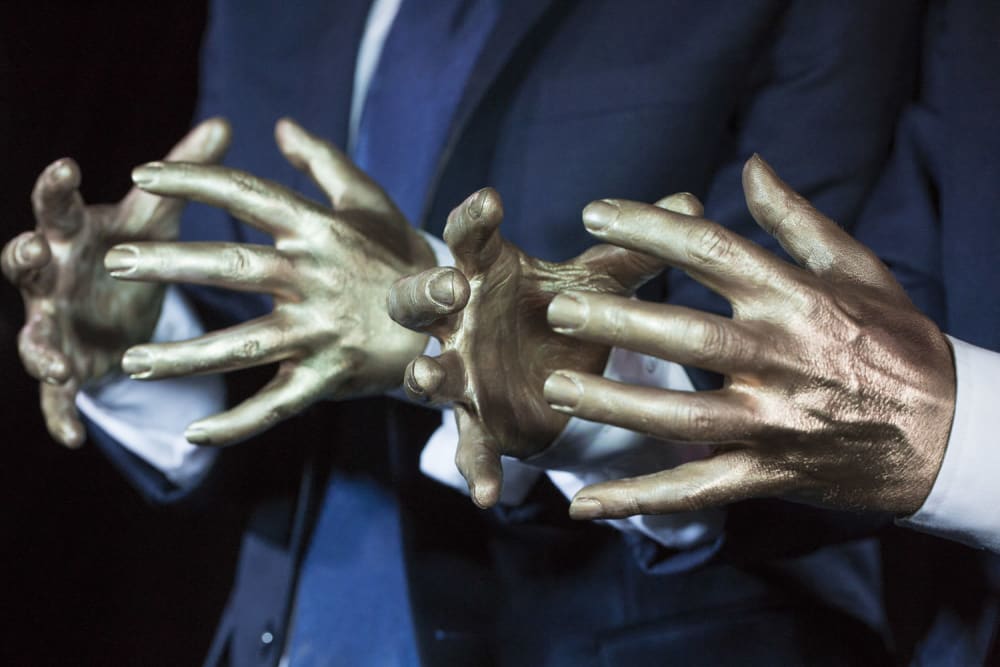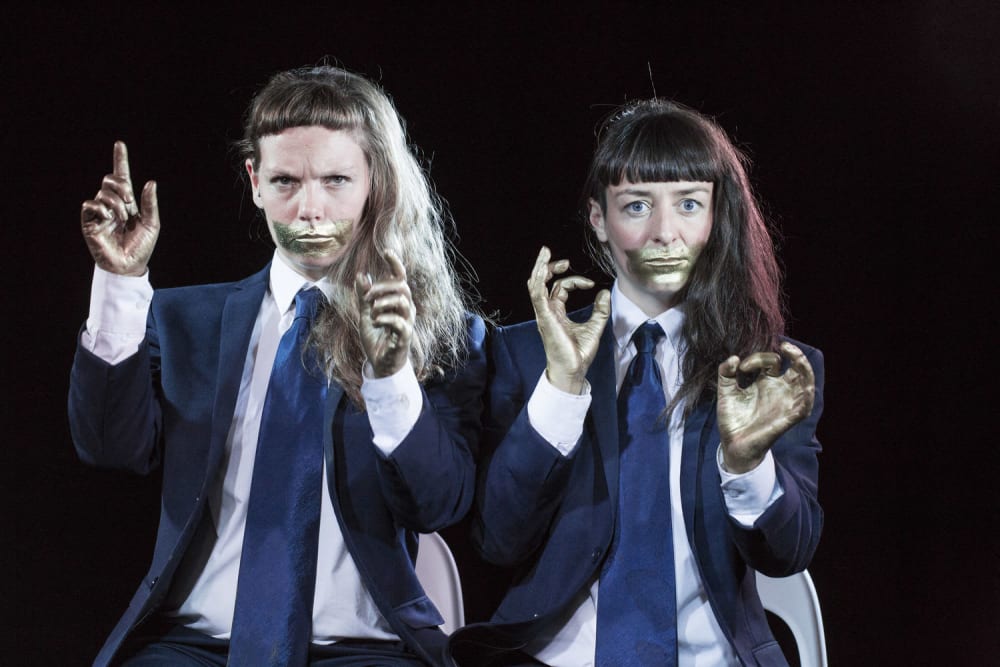 That Nic Green, Rosana Cade and Laura Bradshaw's much-feted 2015 piece appears in the Furnace Festival on the same evening as brand-new show WOKE is a sign of the strength and vibrancy of West Yorkshire Playhouse's approach to new work. It's also a fascinating juxtaposition of performative approaches to male power.
Cock and Bull is challenging, to both audience and performers. Striding onto the stage in an androgynising suit, Cade welcomes us briefly and begins. She mouths a repetitive phrase along with a pre-recorded track of choral layerings. This phrase is "when I am laid in earth", but its sonic qualities shift and shimmer as we listen, perhaps hearing (as I did at first) "when I am late enough", straining to wrangle the sounds into recognisable words. Over and over the phrase is repeated, rising like a monolith of long-lost, inscrutable meaning.
Thus begins a slab of performance which functions by processes of accretion at a glacial rate—attrition, almost. Cade is joined by Green and Bradshaw, dressed identically and with similar otherworldly gold paint on their hands and across their mouths. These hands glint in stark spotlights, as they undertake a cycling set of motions which grows and shifts as the words do, developing and resolving into the recognisable power pointing and palms-together preaching of modern politics.
Phrases emerge into the mix of roundelays, syllable by syllable, tunefully and mournfully: from an outbreath to a "ha" to a "hard". And these grow outwards like bacteria under a microscope, oh-so-gradually resolving into "hard working people; people who work hard". It transpires that almost all of the verbal and gestural material of the piece is drawn from Tory Party conference speeches, from "hard working people" to the bizarre so-called power stance evidenced by George Osborne, David Cameron and—lest we forget—Theresa May.
It is agonising, hypnotising and—to me at least—entrancing. And not without humour: both that of recognising these minimal building blocks of politicians' discourse ("Jaguar Landrover"; "that pumps me up") and that of the less formal, daftly sexualised and liberating breakdown which comes, eventually, towards the end.
The show thus puts soundbites in the sandbox, tears them apart and compulsively rolls them around, forwards and backwards. It strives to rewire the brain, acting in opposition to the neurolinguistic programming which is a core part of the special advisor's toolkit these days. The piece was originally performed on the literal eve of the 2015 General Election; were they to remake it today, "strong and stable" may well have provided a sibilant counterpart to the plosive "people".
But this thing we're watching is oblique, and offers space for meaning rather than scoring political points. The catharsis of the breakdown, set to a silly re-tooling of an already daft song, is trickily underlaid by dark intimations of the landed elite having their way with a population afflicted by austerity. The hopefulness of the show's final phrase, 'good luck everyone', gets ever more ironised as time passes since Cameron's tootling walk into the sunset.
And yet there is defiance, and optimism, and beauty. This is a stunning and memorable—by no means an easy—piece of performance as part of an adventurous festival celebrating inspiring new work.
Reviewer: Mark Smith