Cock
Mike Bartlett
Tron Theatre Company
Tron Theatre, Glasgow
–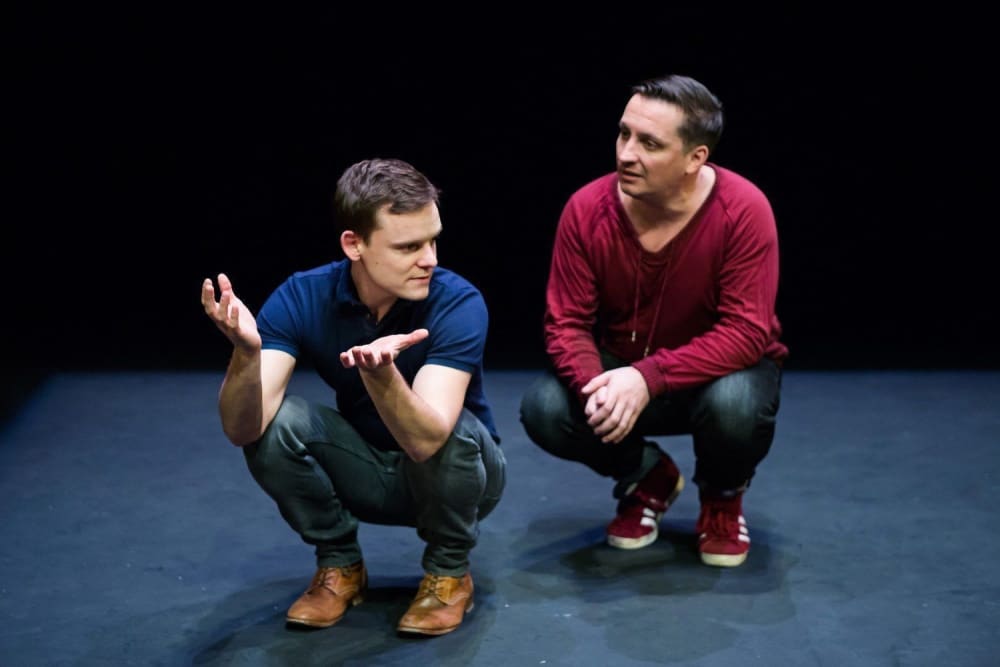 This Scottish revival of Bartlett's 2009 play looks at the scenario of a gay man falling for a woman, an often overlooked subject, except for Bob and Rose, Russell T Davies's TV drama, but that was way back in 2001. It's a punchy piece of theatre, much more serious than the title might suggest.
John (James Anthony Pearson) leaves his overbearing partner M (Johnny Knight). The opening scenes show the struggle as M tries to hold them together and John drifts away.
The action all takes places in a square of light, it is a minimalist production, no real set or props and choreography used to symbolise passage or time and interactions between characters.
After leaving M, John flirts with a woman W (Isobel McArthur)—only John is given a proper name. He is open about his sexuality to W, but their attraction leads to sex, a touching scene done without any touching, just dialogue.
John starts to see W quite regularly, but also tries to patch up his relationship with M. All the characters have their flaws; M and W are both quite dominating and manipulative in the way they deal with John. John appears more sympathetic; it makes sense he is the one attracting multiple lovers, his flaw though is his indecisiveness.
I couldn't help but find John's indecision quite endearing though and, while it isn't much fun for his lovers, he is honest with them so they know what they are getting themselves into.
The play crescendos to a confrontation between John and his two lovers. The build-up is so good, with such great dynamics between John with M and John with W, that providing a satisfying climax is going to be tough.
Bartlett certainly makes things interesting by not only having the three on stage together but throwing in a fourth, M's father F (Vincent Friell). Although there isn't any massive explosive moment, there is plenty of depth to the arguments on the stage.
F presents both commonly held, rigid, black and white views of sexuality, but also shows a parent who has had to really struggle to come to terms with his child's sexuality. This new development with his son's partner feels understandably quite a blow to his newly gained worldview.
The dinner party fight has its moments, both sincere and humorous, however I prefer the earlier interactions between John first with the overbearing and needy M and then with W, who is much more sure of herself. I particularly like the strength of W's character and the interplay between John and her.
The simplicity of the performance, use of dance and also the near, but not quite complete, lack of touch allow the play to really focus on the relationships and nature of sexuality.
The ending was I initially thought slightly weak, but actually there was some ambiguity to it. John's indecisiveness is still there, despite his having in theory made a choice. As a bit of an indecisive person myself, I think it's great to see it take centre stage in such a bold way.
A really great revival which is worth catching on it's Scottish tour whichever way your bread is buttered, or even if you don't eat bread and butter at all.
Reviewer: Seth Ewin