CodPieces: Hamlet II & Prince Lear
Perry Pontac
Ham-a-Lot
theSpace @ Surgeons Hall
–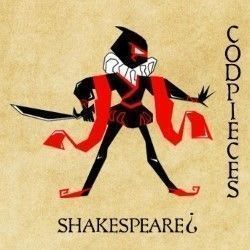 As well as performing the interesting but maligned Fatal Loins, Ham-a-Lot's other production is a pair of short plays performed together, this time showing us the tragic events following on the week after Hamlet's fateful climax and the younger days of the lusty Prince Lear.
Unlike the other show, this one is performed in full costume rather than as a radio play and is all the better for it. The script, by Perry Pontac, manages to create some great moments of comedy, especially during Hamlet II, which manages to make some very clever observations about the sheer amount of deaths in Elsinore and the political ramifications as a result.
Prince Lear sits a little less well, as the concept feels a tad flimsy and there is a particularly long and drawn out sequence of Lear's wife acting mad, which felt as if it had taken on a life of it's own and threatened to gobble up the whole play as well as the sanity and patience of the audience.
Yet, overall, the show is mildly entertaining, especially for fans of The Bard.
Reviewer: Graeme Strachan