The Colored Museum
George C Wolfe
Talawa Theatre Company
Victoria and Albert Museum
(2011)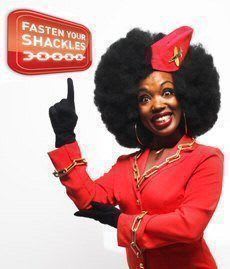 Talawa was founded in 1986 and to celebrate its 25th anniversary it has revived a play that premiered that year at the Crossroads Theatre in New Brunswick. They are presenting it in Black History Month in an actual museum to match the title to display the eleven "exhibits" that African-American writer Wolfe presents.
These scenes present are a cross-section of black stereotypes and attitudes of the time and in black history but the savagery of their wit still seems as relevant today. From Ghemisola Ikumendo's airline stewardess who tells us, as passengers on her celebrity slaveship, to "fasten our shackles" to the poignancy of Ashley Campbell's ghost of a black US soldier who has been blown up serving Uncle Sam or the argument between two wigs, Afro and straightened, over which of them should be worn to a party, these vignettes still touch a raw nerve.
Although the now middle-class black man has jettisoned all those things that had been his younger black self, they still seem uncomfortably true if the wincing reaction next to me is any guide, though the exhibit that sends up the way black families have been presented on stage in plays like Raisin in the Sun, heavy with centuries of oppression (and a restricted roles that used to be available for backs in movies), is perhaps now consigned to history, thanks to Talawa and other companies like them who have helped change the face of modern theatre.
Terry Doe's gold-lamé-clad, finger-clicking gay Miss Roj was a hoot, the sassiest reaction you could possibly have to double discrimination, and Alana Maria as a divine-voiced diva were my high spots, but Don Warrington's production, with some input from movement director Omar F. Okai, keeps the whole ninety minutes spinning in high gear with Marc Forde on the keyboard.
"Don't waste your time trying to label or define me," say one character in the final party scene. "I'm not what I was ten years ago or ten minutes ago. I'm all of that and then some. And whereas I can't live inside yesterday's pain, I can't live without it." That sums up what this show is about.
Although the original production was the winner of the Dramatist Guild's Elizabeth Hull-Kate Warriner Award, presented to the best play dealing with a social, religious, or political topic, and was well received by most of the critics, it caused considerable controversy. There were those who thought it demeaning and it was charged with being misogynist and full of self-hate when it was actually all about casting off the baggage of black conditioning, being aware of the lessons to be learned and proud. A quarter century on, black self-assurance has grown and such attacks are surely out of date, as out of date as Wolfe was telling people those attitudes and stereotypes should already have been then. But that won't mean there is not a lively recognition, as was clear from the delight with which the first night audience greeted this lively satire.
It is great to see live theatre within the Department of Theatre and Performance at the V & A. The Museum has an enormous asset in its theatre collections and it is good to see them embracing living shows as well as displays and recordings. The apse-like playing space is not the easiest performing space but designer Jonathan overcomes its problems with a set made up packing cases that not only open up to provide everything that is needed but also create a backstage area behind the largest for the actors to retire to. He's also provides some startling costumes.
A little more light to allow those at the back to see faces more clearly would be an improvement and the acoustic and strong US accents make some of the text difficult to catch at the very back - though it was getting its laughs a few rows in front, but it was great to have a house that needed to crowd into those rear seats. There were quite a few among this enthusiastic audience who seemed not very familiar with the Department: let us hope it whets their interest to explore it.
"The Colored Museum" plays in the Lydia and Manfred Gorvy Lecture theatre, Victoria and Albert Museum, until 23rd October 2011
Reviewer: Howard Loxton