The Colour of Nonsense

Forkbeard Fantasy
Purcell Room, South Bank Centre
(2011)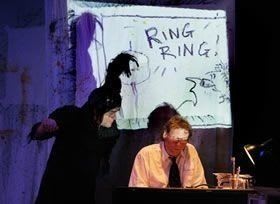 Forkbeard Fantasy has been around since 1974 when it mounted its first show with its mixture of film, live acting, puppetry, mechanical apparatus and whatever newest technological development they have discovered to mix with their talents as artists and creators.
This strange story is about a group of creative artists, inventors if you like, who could be themselves with their mixture of drawing, film making, modelling and performance talents all stirred up in a melting pot of imagination.
Forkbeard are not the clearest of storytellers, their anarchic attitudes and, in this tale, the characters' need for secrecy, adds to the obfuscation. It takes some time to have any idea what is going on. Even the threesome of Splash (Chris Britton), Line (Tim Britton) and Scuro (Ed Jobling) don't know what each other is engaged in, discovering the colour of nonsense is just one strand of their researches. Together with a talking parrot and a fly called Cedric whose buzzing can be digitally slowed down to become intelligible, they make up a company of conceptualists who claim to be at the cutting edge of innovation.
Drawing on sources as diverse as Hans Anderson, Edward Lear and late seventeenth century tulipmania, a plot eventually emerges from the mayhem. Angstrom, whose family has for centuries been in opposition to that of Splash, commissions them to create an artwork that will be real but invisible. It is a gamble with a huge reward but he's convinced that they will fail, and then he claims the aphids which Splash uses to create multicoloured tulips. Angstrom, who likes pure colours only, will destroy them.
Amazingly, these boffins succeed (it's all to do with bending wave forms) but the "Emperor's new clothes" syndrome is very apparent in those who claim to have it after it is stolen and in the merchandising spin-offs; there is a message here about the phoniness of the art-world and the rampant cult of the new. However, the story and any messages are rather less important than the many media and the detail of the telling. Lear limericks in film cartoon and even a Dong (with a luminous nose), a cartoon strip created apparently at speed that presages the action, clever transfer of characters from film projection to live action, a videoed lift that rises out of a desk (and which their client Hermione has turned into an office), strange apparatus and wild costumes all contribute to the entertainment. Goon fans will find a familiarity about Forkbeard's vocalisations: Spike Milligan's Minnie Bannister even crops up in their conversation and their inconsequential zaniness is part of that comedy tradition.
There were moments of self indulgence when the performers seemed to be enjoying themselves more than I was. Director Andy May is no strict disciplinarian—but who could control this lot?—and you can't help but admire and marvel at their wild invention. I found they won me over.
Their fictional company of creatives is worried about the challenge from the young Turks of the arts and media, with Splash sporting a blond wig to hide his ageing, hairless pate, but real-life Forkbeard is still brimming with insane ideas and some of sobering significance. Sadly, there is a question mark about their future for all their public funding will end in March 2012. Let's hope they manage to survive.
"The Colour of Nonsense" runs at the South Bank Centre until 30th December 2011. "Forkbeard Fantasy: Theatre of Animation" is a fee interactive exhibition is also running at the South Bank in the Festival Hall (Spirit Level) until 8th January 2012.
Reviewer: Howard Loxton