Come Dancing
Story by Ray Davies. Book by Ray Davies and Paul Sirett. Music and lyrics by Ray Davies
Theatre Royal, Stratford East
(2008)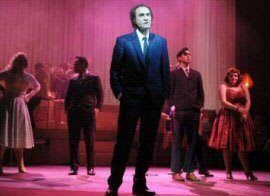 'Come Dancing,' a 1980's hit for The Kinks, was a nostalgic look back to the 1950s that was inspired by Ray Davies memories of his elder sisters' visits to the Palais. In this new musical he takes us back to tell the story behind the song and it is very much his show. There are two other Kinks numbers you may have heard before but this is not a musical made up of recycled songs from the group's back catalogue. It is a freshly-conceived show in which tuneful new numbers follow the story - not the other way round!
Though having its inspiration in Davies's own background, it presents a fictional family: a former big-band singer, her husband and her three daughters and the then ten-year old son and their friends. The story is told by their ten-year-old brother, looking back from fifty years later and played by Davies himself. It begins on the eighteenth birthday of Julie, the youngest of the sisters who has suffered from polio, preparing for her first outing to the Ilford Palais. The other sisters' boyfriends and the rock band they form, the crooning dance band leader with whom their mother used to sing and a young black saxophonist, whom Julie falls for, are also a big part of what happens.
It all takes place at a time when there is still a bomb-site next to the Palais and Britain has not quite thrown off post-war austerity. A time when Rock and Roll was gaining ground over the show bands and the crooners, when there was 'a new beat about to hit the street.' In his tuneful new songs Davies ranges from ballads and a snatch of calypso to ear-splitting electric rock, complete with tea-chest bass, some classy jazz singing from big-voiced Wendy Mae Brown and even a point number about new towns as one of the sisters and her husband think of moving out to Stevenage. The stage is a dance hall lined with patrons at tables which spill over into the front of the stalls. Its red walls make it one with the theatre auditorium, with chandelier and glitter ball above and the band under MD Robert Hyman raised at the back on a platform from which band leader Frankie and his singers can dominate the scene, or try to.
From big skirted frocks to teddy boy jackets it looks the period (designers Harriet Barsby and Jenny Tiramani) and Omar Okai's choreography captures the essence of the dances of the time while not seeming in any way old-fashioned. This is retro styling at its best and a wonderfully spirited cast give it all they have got to the audience's delight -- whether the crooning of Alasdair Harvey's lemon-jacketed Frankie, with his tired tag lines and billed acts who never seem to turn up, or the rockers: reformed Borstal Boy Tosher, Basil and Sid (Marcus Ellard, Anthony Flaum and Stephen Lloyd).
This is a show that is full of hopeful confidence: 'If you believe in things enough they can come true - sometimes.' Rose and Arthur (Katey Munroe and Bradley Clarkson) never got to Stevenage, but they did take a £10 passage to Australia. But Davies and Paul Sirett's book also gives us a world when opportunities are often closed to Essex girls and youths, where racism rears its ugly head and a knife can seem a solution to a problem - things have not changed that much in half a century we are reminded. Such things are implicit in the story and are not laboured, even a dark secret in the family is not explored for this is a relatively simple story line that follows the experience of Gemma Salter's delightful, innocent Julie and her love for her black saxophonist, played by Delroy Atkinson,who may be short and stocky but has a giant-sized charisma -- how could anyone not fall for him!
Director Kerry Michael has given it an unfussy minimalist production that concentrates on the numbers, especially in the first half when there seems to be less dialogue and action, but the second half brings stronger dramatic impact. It is still simply presented, but I have rarely been more touched than when he places two doomed young lovers standing motionless as a revolve takes them slowly round the stage.
Though Davies nostalgically remembers the smell of the old Palais: 'Brylcreem, stale cigarettes, beer and cheap perfume - the best smell in the world,' that's one thing that perhaps we can be glad was lacking, but what this show does give you is a Saturday Night Out, whichever day of the week you chose to go.
At Stratford until 25th October 2008
Reviewer: Howard Loxton