Comedy: A Tragedy in One Act
Nikos Kazantzakis
The Canting Crew
Sadler's Wells Lilian Baylis Studio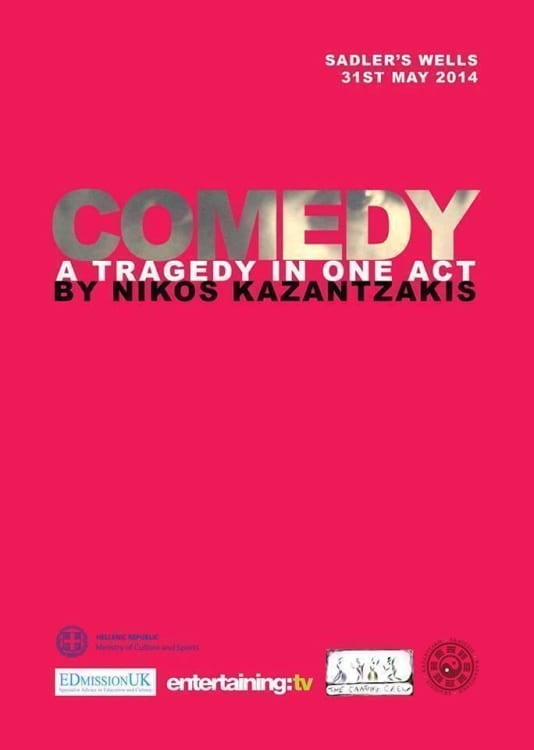 In 1909, the Cretan-born writer best known for his novel Zorba the Greek wrote this play which presents a motley group of people from a nun to an elderly businessman who find themselves arriving in an opulently furnished room waiting for God.
It is a little-known work that is a forty-year forerunner of Sartre's Huis Clos and Beckett's Waiting for Godot that here gets its one-off British première; indeed, has it ever been performed, even in Greece?
Kazantzakis wrote Comedy soon after studying with French philosopher Henri Bergson and had just completed his dissertation on Nietzsche, the influence of both men clearly evident in this existentialist critique of religion. Published in an obscure Greek literary magazine in 1909 and in a similar publication in Alexandria a year later, it was not until 1958 that it got a mainstream Greek publication.
That has nothing to do with its literary or theatrical achievement or its ideas and is hardly surprising in its Greek context. The Greek Orthodox Church condemned Kazantzakis's work, anathematized him in 1955 and refused to allow him to be buried in a cemetery (his body was interred in the ancient walls of Heraklion) while the Roman Catholic Church put his Last Temptation of Christ on their Index of Prohibited Books.
The play presents us with a sort of temporary Limbo. It draws (as Prof Roderick Beaton pointed out in a discussion after the performance) on a pre-Christian folk tradition that people are not truly dead until they are buried and shows us each character having to discover, as lights and lives are extinguished, that there is no afterlife, no Heaven and no Hell, just extinction.
It is not easy to translate Greek poetry and literary texts into English. Language which in Greek may seem as acceptable as Shakespeare to us can appear extravagant in English. There are times when that is so, early in this translation by Kimon Friar, but it gets less high-flown as the play continues.
It gets a clear and smooth-running performance from the Canting Crew under director Stephen Oswald. Robert Ashe and Ian MacNaughton's Old Men are already ensconced in the black and red hotel lounge suggested by the setting (no designer or any other creative or staff are credited in the programmed) to be joined by a Young Child (Danielle Tabor) who is followed by her protective Mother (Shereen Gray), an overalled Worker Matthew Norton), an Elderly Woman (Victoria Lennox), a Young Woman (Tara Crabbe), a Young Man (Sandy Batchelor), a Proud Youth (Conor Craig-Stephens), a Nun (Kimberly Black), a character simply called Fool (Simon Mitelman) and one called an Ascetic, here played by a woman (Anneli Page) but who sounds as though written as a priest.
None of these people is written as a detailed character study, little is learned about them but they arrive, preceded by their shadow silhouette, on a one-way, curtained entrance with differing expectations.
The priest figure, who at times indulges in rituals, reiterates that God will arrive before midnight and, when he doesn't, does not deny his existence but calls him a liar. One could interpret this as indicating that, though rejecting the idea of an afterlife, Kazantzakis is not abandoning the concept of a deity, just saying you can't trust Him despite that Old Testament pledge with a rainbow.
Comedy is a play that has little narrative content and does not argue a case. It presents a dramatized disillusionment: there is death and that's it! It is a credit to Stephen Oswald and his cast that they keep it theatrically interesting for its 50-minute playing timer the actors creating their own characters and delivering Kazantzakis text with clarity, interesting as a young writer's first theatrical experiment and one that was a frontal attack on established ideologies.
The comedy here is the joke that God and his Church have played on mankind with their promise of afterlife and redemption. The tragedy is that people have been taken in by it. It is not surprising that, in a country where, until comparatively recently, it was assumed that every Greek was an Orthodox Christian, it does not appear to have had many, or perhaps any, productions.
Reviewer: Howard Loxton