The Comedy of Errors
William Shakespeare
Northern Broadsides
West Yorkshire Playhouse, Leeds
(2005)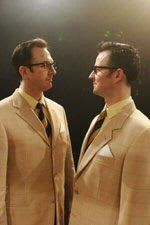 Fans of the Northern Broadsides brand of robust northern Shakespeare will find much to enjoy in the company's new Comedy of Errors. Under the direction of Barrie Rutter (who also plays Egeon) the Bard's tale of mistaken identity, marital discord and magically reunited families comes up as fresh as paint. Even some of the most laboured wordplay in the canon is somehow made to work. Indeed, the play lends itself so perfectly to the Broadsides style that it could almost have been commissioned by them - perhaps it's no coincidence that Comedy is touring with Alan Plater's Sweet William, which really is a specially commissioned work about Shakespeare's drinking companions at the Boar's Head.
Rutter has set the play in the late 1950s (or is it the early 1960s?). Adriana and Luciana obviously buy their smart little pastel outfits and white gloves at the best department store in Ephesus, the bespectacled Antipholi bear more than a passing resemblance to Gilbert and George, and the Scottish Courtesan plies her trade in black stockings, miniskirt and a fake leopard skin jacket. The Dromio twins, as befits their humble status, have to make do with less fashionable (but identical) attire. The set is confined to a raised platform, four panels depicting a summery blue sky and some delightful miniature houses - I particularly liked the little abbey, which lit up to the sound of heavenly music when the Ephesian twins took refuge there!
It would be a very disappointing Broadsides show that didn't boast a first-rate ensemble cast, and there isn't a single weak link in this Comedy. The two sets of twins may be identical in appearance but they are quite different in character, a distinction nicely brought out by the Antipholi - Andrew Cryer (the Syracusan innocent abroad in search of his family) and Conor Ryan (the ex-soldier and successful businessman of Ephesus). The Dromios also have distinctly different personalities - contrast Dromio of Ephesus (Simon Holland Roberts), fearless suitor of the spherical Nell, to his less worldly counterpart of Syracuse (Conrad Nelson). Adriana (Zoë Lambert) is a neglected wife rather than an out-and-out shrew, and her sister Luciana (Claire Storey) an apparently demure young lady in pink who rather surprisingly advises her "brother-in-law" to enjoy his bit on the side without letting his wife find out.
The non-stop cavalcade of chases, arrests, misunderstandings, sinister goings-on and reconciliations is punctuated by Conrad Nelson's typically inventive music, without which no Broadsides production would be complete. I must admit to being a little disappointed that there was no clog dance (another Broadsides trademark), although it was good to see Dr Pinch's assistants making use of the trolley which the company's fans have come to know and love
After last year's pedestrian Merchant of Venice it's a pleasure to see Northern Broadsides back on top form. I look forward to seeing Sweet William later this week.
At the West Yorkshire Playhouse until 26th March, then touring to Liverpool, Buxton, Salford, London, Richmond (N. Yorks), Glasgow, Isle of Man, Ollerton (Notts), Portsmouth and Scarborough
Reviewer: J. D. Atkinson