The Comedy of Errors
William Shakespeare
Guildford Shakespeare Company, in association with Guildford's Yvonne Arnaud Theatre
Guildford Castle Grounds
(2008)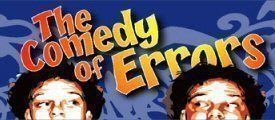 Bruises aplenty for this hard-working dedicated group of thespians who are beaten, bound, manacled, chased, knocked down and tumbled over – all in the name of entertainment – in this knock-about comedy described as "an hilarious rollercoaster of chaos". The description is accurate!
They preface the synopsis of the story with "the ten things you need to know to survive ." – a very useful ploy, as the plot is complicated with two sets of identical twins. As if it wasn't complex enough, two are called Antipholus and two are Dromio, and the Dromios are the servants of the others, but in one of Shakespeare's many shipwrecks both sets of twins became separated and are unaware of the others' existence. Let the confusion begin!
They have set their play in 'a cartoon version of Guildford' in the Castle Grounds and make excellent use of the bandstand, which has now become Pizza Adriana, where that lady is impatiently waiting for her husband to come to dinner. Of course she dines with the wrong husband (a very bewildered Mark Knightley) who falls for her glamorous sister, played with off-hand manner and sexy wiggle by Sarah Gobran. Natalie Wilcox works very hard at her role of angry, frustrated and distraught wife – perhaps a little too hard considering the close proximity of the audience!
They use Shakespeare's text – but a little has been added to make sense of the action – I don't remember the Bard thanking a " helpful British bobby" for instance, but one is in evidence from the beginning having just arrested Syracuse merchant Egeon for setting foot in Ephesus, a sin punishable by death. Egeon (Oliver Hume, who also plays a merchant and a manic preacher) begins to tell his story, and the lady mayor settles down to listen with interest - and a bag of crisps. She is extremely well portrayed by Devon Black with a touch of the Lady Thatchers (including the handbag), and she also takes in a greasy kitchen maid and a sexy courtesan with a wicked knee thrust which sends one of the Antipholi sprawling.
Newcomer (about to graduate this year) is Rachel Winters, totally convincing as a modern young miss (goldsmith Angela), and recent graduate Adam Lilly is a splendidly comical Abbess, putting everything to rights.
The Dromios, of course, are the most fun. Rikki Chamberlain is the one who takes the worst punishment, constantly being beaten for misdeeds which were not his fault. I admired Matt Pinches (Dromio of Syracuse) in their original production of Much Ado About Nothing, likening his mobile features to Rowan Atkinson. This time his comedy is distinctly reminiscent of Charlie Chaplin, and just as funny – a very talented young man!
Director Joanna Read has kept the pace fast and furious, with fun being uppermost in this frantically paced affectionate pastiche of the original, the outdoor setting being used to the full with some frantic chases around, through, over and among hedges, lawns, trees and the audience.
It's well worth taking a chance on the English weather to see this energetic, enthusiastic and talented company in action, now in their third year and going from strength to strength. Guaranteed laughter – fun and frolics alfresco – enjoy!
Playing until 5th July (excluding Sundays and Mondays) and commencing "As You Like It" by the University Lake on 17th July
For tickets, Contact 01483 304 384 or www.guildford-shakespeare-company.co.uk
Reviewer: Sheila Connor