The Comedy of Errors
William Shakespeare
Sell a Door Theatre
Greenwich Playhouse
(2011)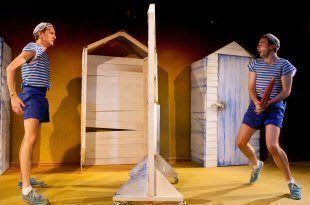 Three bleached-blue beach huts and a string of bunting set the scene and offer a promise of seaside fun in Ephesus in this production of Shakespeare's comedy of mistaken identities involving two sets of twins, separated many years before. First, however, Shakespeare presents us with a deadly serious situation. Egeon, a Syracusan merchant looking for a missing son, has been arrested as a citizen of an enemy state and faces execution if he can't raise the money for a hefty fine. It is easy to get bogged down in this long exposition but Kenneth Jay handles Egeon's length explanations skilfully, though rather too peripatetic - Bryn Holding's lively production has people unnecessarily on the move, often walking away from the person they are talking too, but it is full of invention, and clever sight gags with a lightness of touch that keeps the comedy spinning.
One twin is Antipholus (Patrick West-Oram) who lives in Ephesus, married to non-nonsense Adriana (Sophie Cosson) with a servant called Dromio (David Eaton), newly arrived is the other Antipholus (Nick Lennon) and Dromio (Mark Collier) from Syracuse. The pairing is effectively look-alike, especially the Dromios who are natural clowns and give the show its zing.
Cosson gives Adriana a touch of the termagant, all's not well with her marriage, but also presents the uxorious wife while Sarah Llewellyn-Shore, as her sister Luciana, makes it clear that this sometimes twittery blonde is far from stupid. Robert Madeley makes a delightfully eccentric goldsmith and Nicola Wilkinson leaves us wondering whether the lady to whom Antipholus of Ephesus is attracted is a tart or just a good time girl.
Adrian Gees' 1950s design works well, right down to the seaside rock and I like the way Holding matches the physical to the text (including a character freeze and simple lighting change to isolate Antipholus when sharing reactions with the audience). The strengths of this Comedy of Errors, however, are the pairs of twins, with the Syracusan pair, Lennon and Collier just having the edge.
Run ends 20th February 2011
Reviewer: Howard Loxton