Comfort Me with Apples
Nell Leyshon
Hampstead Theatre
(2007)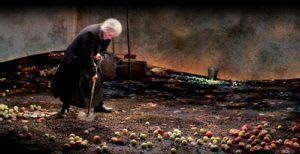 Folk music and an impressive stage setting, on which interior and exterior are surrealistically fused, provide a promising prelude to a play. Apples on the ground and floating, dark, terracotta leaves confirm a title which elegises comfort and evokes the possibility of erotic imagary.
In reality we are introduced to a rather grim scene. We meet the family's matriarch, Irene (Veronica Roberts), who has just had a sleepless night following the sudden death of her husband, Arthur. She is with her baby brother Len, superbly acted by Graham Turner. Len is a middle-aged man with learning difficulties. He is a source of childlike commentary and his account is free from inhibition. He unmasks ugly reality in detail.
The now-deceased Arthur has left behind a neglected farm and an apple orchard that need attention. Roy (Jonathan McGuinness), Irene's son, is left with the task of staying behind to look after the family's dwindling business.
Irene urges her son Roy to stay and continue looking after the family business. Roy is torn between doing something with his life and staying on to look after his mother. The arrival of his twin sister, Brenda, undermines Irene's hold over her son.
Brenda, impressively acted by Penny Layden, broke away from the family some three years before. She looks and sound sophisticated. She has returned for her father's funeral. She points out that in three years of absence the house and farm are in a worse state. She urges her twin brother not to let their mother to ruin his life. She implores him to do something with his life. She is aware that he is in love with Linda (Lisa Stevenson). Linda, we learn, was a childhood friend and Roy's sweetheart until Irene stepped in and chased her away some three years earlier. Brenda implores Roy to confess his love to Linda until she learns from Linda that it is all too late as Linda is carrying someone else's child.
The idea of the dereliction of the land that in turn reflects the ruin in the household and the notion of wasted life and has strong overtones of familiar Chekhovian themes. However Leyshon's has mostly created cardboard characters which leave one largely unengaged. However, this play and production offers an entertainment which verges on a soap opera.
From 31st January the play tours to Barnstaple, Warwick, Plymouth, Salisbury, Newcastle, Poole and Taunton
Philip Fisher reviewed the original 2005 production, with a different cast
Reviewer: Rivka Jacobson