Communicating Doors
Alan Ayckbourn
Stephen Joseph Theatre Company
Yvonne Arnaud Theatre, Guildford, and touring
(2011)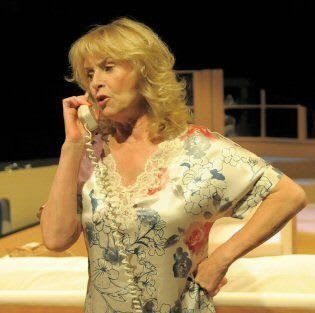 There may be comparisons with Psycho mixed with Dr. Who, and more than faint echoes of J.B. Priestley's Time Plays, but this comedy thriller with its poignant philosophical conclusion is all Ayckbourn's own invention, beginning no doubt with "what if?" and seeing where it leads.
Communicating Doors takes us to the same expensive hotel room in three different time zones beginning in 2030 with a war (apparently between Lewisham and Croydon) raging outside the penthouse suite windows before whisking us back to 2010 and then 1990, and the question is whether changing the sequence of events in the past can have consequences in the future, or is our life pre-ordained and unchangeable. The complications of the play must have been a challenge for designer Michael Holt who was required to provide a functional bathroom with sink, bath and bidet, a window, a balcony and a revolving door, two doors to the bathroom, one to the bedroom and a lockable door to the outside. He has done a great job, and if the furniture and fittings seem unaltered over a forty year period, well that's hotels for you.
Having marveled at the set, and noted the suave but rather sinister figure looking out of the window, comedy begins with the arrival of Dominatrix Poopay. Clad in sexy black leather and striding purposefully around on impossibly high stiletto boots she brandishes her whip, and threatens punishment, but her intended client is not the sinister Julian, but the man who arrives from the bedroom, tottering in on old, wobbly legs, hardly able to make it to the sofa. Can this doddery old man still want sex?
The intricately crafted plot is too complicated to explain, and don't look for logic, but it seems that this wicked old man has previously murdered two wives, indulged in many nefarious business deals, and now wants to make a confession before he dies. The outcome has Poopay running for her life, hiding in a cupboard, and emerging in the same room in 2010 where wife number two, Ruella, is due to be murdered. Can Poopay convince her that she has to beware, and if the murder is avoided will it change events later?
Laura Doddington is an excellent Poopay, assertive, cheeky and street-wise before being terrified out of her wits by the oilily menacing Ben Jones as Julian, and her character changes interestingly, along with her clothes, throughout the play. The excellent Liza Goddard plays Ruella as a strong, sensible and forthright Home Counties lady, ready to organise and get on with the job in hand, however strange the circumstances, and in her turn she slips back to the honeymoon of first wife Jessica - a sweet, innocent and trusting Daisy Aitkens at the beginning, but honeymoons come to an end.
Along with the same furnishings, the same security guard Harold (Jamie Kenna) is present at every episode, always conscious of his important responsibilities, yet totally confused about what is going on, and keeping well clear of what he believes are "lesbianic relationships".
There is laughter and fun all the way, interspersed with nail-biting apprehension, and almost sympathic tears at the way is all turns out. One of the most enjoyable of Ayckbourn's plays with something for everyone.
Touring to Cambridge, Bath, Brighton, Durham, Oxford and Richmond
Steve Burbridge reviewed this production in Durham
Reviewer: Sheila Connor