Communicating Doors
Alan Ayckbourn
Stephen Joseph Theatre Company
Gala Theatre, Durham, and touring
(2011)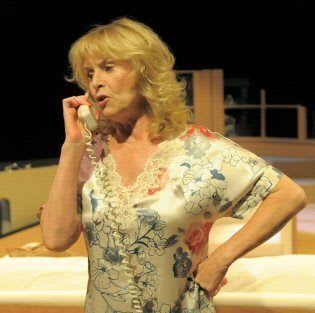 The concept of time travel has fascinated playwrights, scriptwriters and novelists for decades, and Alan Ayckbourn is no exception. His forty-sixth play - he is now up to 76, would you believe? - Communicating Doors, is based on the subject and ponders what lies behind the mysterious locked door in the corner of your hotel room. Having seen this play at the Theatre Royal, Newcastle, in July 1995, as part of its original tour starring the excellent Julia MacKenzie, and recalling having been blown away by the complexity and creativity of the piece, I wondered whether it could do so second time around. It did!
This cracking comedy-thriller begins with Reece Wells (Ben Porter), a dying old businessman, attempting to ease his guilty conscience. He calls upon Poupée Désir (Laura Doddington), a leather-clad dominatrix, to witness the signing of a statement in which he confesses to being involved in the murders of his two former wives, Jessica and Ruella. But when his ruthless business partner, Julian (Ben Jones), who is also implicated by the statement, finds out, Poupée ('it's French for doll!' she insists) escapes her fate by fleeing through the communicating door and finds herself transported back to the same hotel suite twenty years earlier.
The plot sees the 'specialist sexual consultant' confronted with Reece's second wife, Ruella (Liza Goddard), on the eve of her murder. Can Poupée alter the course of events and save Ruella? And can Ruella go back a further twenty years and prevent Jessica (Daisy Aitkens), Reece's first wife, from being killed, too?
Set in three different time zones, 1990, 2010 and 2030, this clever and complex play has you on the edge of your seat throughout. Liza Goddard gives a brilliant performance as Ruella, and she is supported by a consummate cast. The pace of the action is frenetic and following the story requires a certain amount of concentration but, ultimately, this pays off and the audience is rewarded with a fantastic evening's entertainment.
Touring to Oxford and Richmond.
Sheila Connor reviewed this production in Guildford
Reviewer: Steve Burbridge