Common Sounds: Touching the Void
Fruit for the Apocalypse
In TRANSIT Festival
Former Commonwealth Institute
(2011)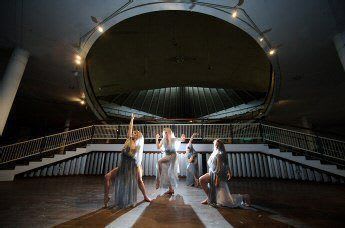 Common Sounds: Touching the Void is a programme of work specially commissioned by the Arts Team of the Royal Borough of Kensington and Chelsea that has been produced in direct response to this striking building which has been left empty since 2002 but is due to reopen as the new Design Museum in 2014. It consists of a sequence of music and dance works and installations that the audience is sometimes guided through, sometimes free to explore.
Its four days of performances are a prologue to the coming InTRANSIT Festival which runs 22nd - 31st July at various locations in the borough and features events that range from a Tea Dance at the Chelsea Theatre to an audio-enhanced journey on a night bus and a promenade adaptation of Balzac's Le Peau de Chagrin to a mythical exploration of Brompton Cemetery with a wolf pack.
At the preview that I attended there was a thirty minute delay before the announced opening, filled by flowing Borough hospitality and followed by welcoming speeches from members of the council before the performance proper began. Apparently there was a sound installation of birdsong on arrival that went unheard drowned by the general hubbub and some other things on the programme that I missed or perhaps didn't happen. I can only report on my own very subjective experience.
A frozen cascade of mail falling from a letter-box presents itself before you enter the building. It is an installation by Susana Oliver, an image so typical of abandoned premises. Less obvious (I certainly didn't get it until told, is that the white tapes that run along the floors, along handrails or cross spaces through the rest of the building railings are not route guides or abstract patterns but meant to indicate this mail has build up throughout the spaces .
On the way into the building the performance itself opens with a couple of officials and a somewhat gnomic greeting referring to the Commonwealth past, after which a group were led off to 'the garden' in the bowls of the building while I was one of a party directed to 'the gallery' which exhibits 53 plates, one for each of the Commonwealth member states, decorated with an image of HM the Queen drawn by residents in the borough as part of a project designed by J Kay Aplin. Copying photographs and images on coins and postage stamps, head-scarfed or crowned, they range from the crude but affectionate to the cruelly distorted. It is an amusing display made insignificant by their size in relation to the room.
By the door was a mound of red ribbon and this was used to bind a number of the audience around the wrist to make a chain which the final person was told to lead around the building. I was part of it and we roamed randomly about while musicians began to play an electronic score by Paul Newland and dancers appeared, singly or as a group, in what gradually melded into a coherent choreography of rushing, pushing and escaping. Called "People in Transit" it was inspired apparently by the multinational melée of London streets and transportation. Moving around two levels, in and out of light, the dancers speaking and calling incomprehensibly in many languages, it had great vitality. I broke free of my ribbon to follow the dancers but the many repetitions of Mari Frogner's choreography as it moves around the building are perhaps intended for random encounter and I went off to explore where the group had been led off to 'the garden'.
This led me through the semi-darkness of corridors and stairs to a daylight filled room where mouldering ceiling tiles littered the floor and a carpet of grass was spreading. On a rack were ranged small packets of seeds each labelled "Sow Me". It was a touching image of nature taking over in places that humans have neglected, though in this case the creation of artist Hannah Jerrom.
Returning to the building's central arena I found people being kitted out in red over-suits with hoods and watched them drilled into advancing and retreating manoeuvres and confrontational poses. As they regrouped in the centre I made for an upper level, passed by a rush of black and white clad figures who surrounded the red ones, some infiltrating them and then encircling them with a ritual-like dance.
Called Battle, I saw as some sort of tribal conflict but it is apparently intended by choreographer Dane Hurst to represent the conflict between "an unfamiliar authority and the existing space". A bit beyond me I am afraid, but dramatic.
As they dispersed a black clad figure with a tall box for a head appeared and started conducting an imaginary orchestra and then I was gently urged to go back into the depths, directed through corridors until I entered a space where an installation of broken plaster torsos by Tea Mulabdic was the setting for a group of dancers in vaguely classical attire, bindings and plenty of bare flesh, who sprawled or stood among them. Some juddered like figures in Bedlam, others moved with eloquent grace. This was Wasteland, which like the garden seemed to have grown out of the mouldering building. Hurst's choreography went in repeating cycles and, with people still entering the space, I was directed onward into more passages, following distant glimmers of flashlight until I found myself crossing the stage of the Institute's theatre and down into the auditorium and listening to what I think were recordings of music by Stravinsky and Harrison Birtwistle.
When at last the whole audience had come through and been seated a performance began of Birtwistle's "Orpheus Elegies" a haunting work for oboe, harp and counter-tenor, here played by the London Contemporary Orchestra and sung by Daniel Keating-Roberts, with a ballet again choreographed by Hurst. The setting makes it impossible to follow Rilke's text and Hurst's fluid and powerful choreography does not offer a clear narrative though it gives the opportunity for some bravura dancing as the figures move in the dim light and against a bright lamp behind them that dazzles the audience.
It made a long end to a long evening, or so it seemed, although actually it was not much more than two hours of actual performance. Over the weekend performances may be shorter as Orpheus and the Underworld, as the last work is here titled, will be given in a different form as an "echo" of the performance, whatever that may mean. However, this is an opportunity to see some vibrant material, some of which seems to be designed to be dipped into rather than seen in its entirety. With an audience given two different starting points people will experience things in different sequences but unless you can discover something going on simultaneously there is a tendency to wait until you are quite sure something has ended, if only in the hope of grasping the point of something that has not yet communicated its meaning.
Full marks however to Kensington and Chelsea for encouraging such creativity and for providing a glimpse into a building whose spaces have been for too long abandoned.
"Common Sounds: Touching the Void" is at the former Commonwealth Institute until 17th July 2011.
Reviewer: Howard Loxton