Scenes from Communal Living

Etcetera Theatre, Camden
(2009)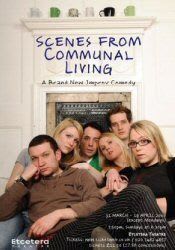 Sublime and ridiculous, this new improvised sketch show chronicles the very modern pitfalls of living with total strangers. It's a creative and, in Camden, almost universal premise which resonated with the young audience, who cheered their recognition when asked by energetic Leanne Stott whether they had ever lived in a flat share.
Basic scenarios are turned into sketches with the aid of suggestions from the willing audience. The intimate space, with its minimal Ikea-esque white sofa becomes a different flat for each scenario with creative use of few props. This is not for the painfully shy or retiring, though, as the size of the venue means getting called on for an idea is highly likely - though the company deliberately refrains from heckling those who draw a blank.
An opening two-hander about winning a pretty pink bicycle is a treat. Ben Van Der Velde has exquisite comic timing, and Rob Broderick comes up with perfect off-the-cuff punch lines, describing a fluffy pink cushion as "a helmet for the soul", which convulses the room as the lights dim. It takes a comic of rare inventiveness to open a sketch in which he plays a Genesis fan by calling to an imaginary audience, "What's my favourite book in the Bible? Genesis!"
Rachel Parris is pitch-perfect as the posh girl renting out a room in Daddy's flat to charming Carly Smallman, who strips off to be the Eastern European flatmate who won't wear clothes - an audience suggestion at which she displayed no fear. Robin Clyfan (whose cheekbones are crying out to be cast in a glossy period drama) comes up with some very funny lines as Tom Cruise; to shorter Van Der Velde "I'm wearing stilts", though his American accent wanders around the world even as he uses the entire stage.
The thrill in improv lies in the precarious line between a brilliant punch line and a watch-through-your-fingers embarrassing mess, but this likeable cast successfully negotiate it, committing energetically even to the most surreal tangents. A scenario involving a dead badger in a box as the Incredible Hulk teeters on the edge of common-room collapse, but is salvaged by its pace, and the sheer goodwill the performers have built up.
The penultimate sketch involving a money-spinning scheme has a murkily misanthropic edge which is a nice change of pace, and shows the range these six talented performers possess. Their easy chemistry makes it appear they have been working together as a company for months rather than weeks.
Engaging and entertaining, Scenes from Communal Living provides an evening of effortless fun. Be prepared to want to move in.
Until 19th April 2009
Reviewer: Beth O'Brien